Excuse me, but this is NOT what I ordered. I ordered temperatures in the 60's and 70's with a light breeze and plenty of sunshine.
The weather gods only laugh when I say things like this to them. They are not contrite, as a waiter in a restaurant might be, nor do they begrudgingly agree to make an exchange, like a salesperson at Macy's might. Nope. They just laugh.
Snow on cherry blossoms. It's so Japanese, isn't it? What I'm thinking is that there will be ample opportunities today, between clients, to capture very Hokusai-esque photos.
Yeah.
In the springtime struggle between seed pod and green chute, it appears that for this morning at least, the seed pod is in the dominant position. The snow is reminding me that I do not have control over the weather, the timing of the cherry bloom, whether or not the snow "burns" the blossoms, or just about anything else. I get to decide when to wash my hair, what to cook for dinner, that's about all.
Oh mighty Snow Queen, I am Reya, the small and meek. I surrender entirely to your vast power. So be it.
The truth is, if my friends weren't arriving this coming Tuesday, I would probably really get a kick out of the snow this morning. As it is, I can not quite get enthused. Instead, I'm aiming for acceptance. It's the best I can do.
Que sera sera.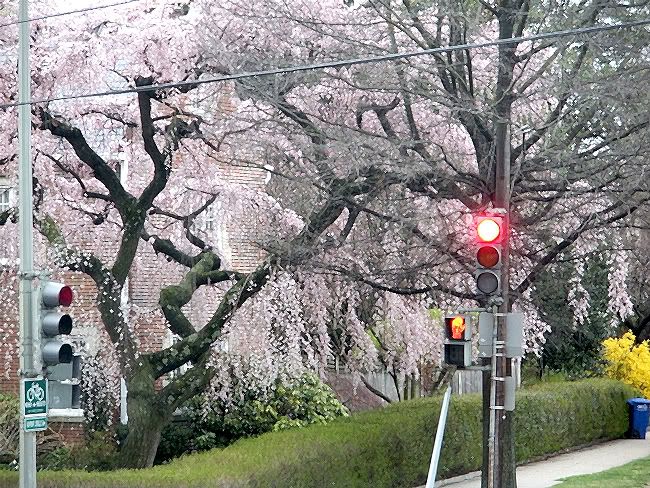 Obviously both pics here were taken a few days ago. And yeah, I altered the first pic to convey my sense of disbelief at the snow. I never do that but today I could not resist.