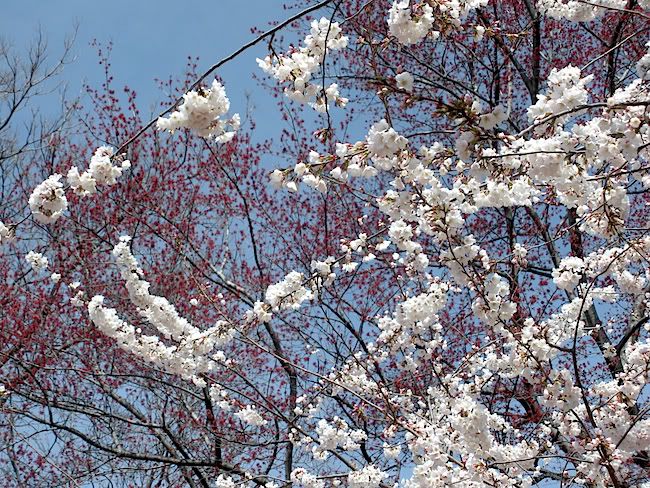 I'm savoring a quiet morning here in the chateau because tomorrow is the day that two of my beloveds arrive for a quick Cherry Amour Midweek Vaca. I'm so excited. The weather has turned around a bit - we'll see sunshine, mostly, with temps in the '50's. Though it isn't what I ordered, it seems that the weather gods are going to cut me some slack this week. Perhaps they are more willing to negotiate than I give them credit for. Ya think?
In the meantime, my spirit guides have just begun to teach me a shamanic healing method in which I can deal with every kind of malady as if it were an entity. What western medicine calls "contact dermititus" (for instance) can also be seen as a "heat worm" that enters the body in one place, subsequently travelling to every dark, warm place on the skin (like the elbow crease - you know). The "heat worm" can be energetically removed by locating the place where the rash emits the most heat, then simply pulling it out.
Is the above interesting to you or just to me? Remember please that I spend most of my work life in silence, dancing with the physical bodies of my clients. A new way to look at ailments is so interesting - and ultimately harmless. I would never tell the rashy client to stop using her cortisone cream, never. I did insist that the next time she refinishes furniture, she should wear gloves. Oh yeah.
While my friends are here, I will put aside my notes on re-assigning the planetary associations in astrology, a project I've been working on for awhile now. It's based on what we actually know about the planets via all the probes and photos and other information we've been able to gather about the solar system in the last 20 years.
I'm busy right now, thinking, learning and writing - but not too busy to welcome dear ones into my home, my village of Capitol Hill, and the city of Washington DC. Even mystics, even shamans, even astrologers need to put aside all their ruminations in order to hang out, drink wine, dance around, and laugh with their near and dear ones, yes? I say yes.