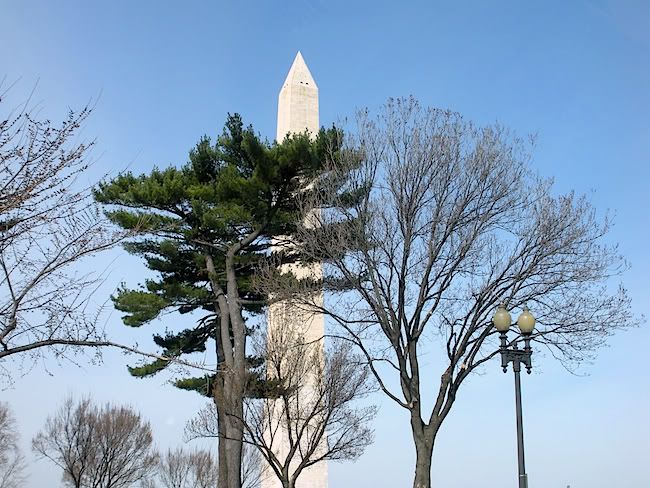 Can you feel it? A big ole change is coming - even for you, Tom (of Half-Moose with a Twist). The times, they are a-changin'. The energy of this shift is so powerful that my hair is literally standing on end this morning. Whoa. Or should I say wow? Astrologically what it looks like is the planet Uranus moving into Aries on Friday. Sudden, dramatic, unexpected changes will be knocking on your door very soon, unless they're already ongoing.
The tower of power is coming down. Not the Washington Monument, or any manifested tower (that I know about), but the metaphor of the tower of power is about to disintegrate before our eyes. Truth is, it has been coming down for awhile now. In Egypt, Yemen, Libya, in Wisconsin, right here in Washington DC down the street in the Capitol. Holy cow, what a time!
For a visual and some classic interpretative associations with this kind of energy, seen through the lens of the tarot,
check this out.
The common wisdom around historical moments like this is to try to relax your body. Breathe, drink water, stretch, get enough sleep. Laugh, please, as if you were riding a big roller coaster.
I think this time of personal and collective re-invention is likely to be hardest for those in their productive and reproductive years. Those of us who are older (and remember the '60's) already know the drill. For children and very young adults, this kind of energy will be easier to negotiate because it just is. They have no other kind of energy to compare it with.
For the 30- and 40-somethings, and the early 50-somethings, cultivating not only the ability to use your iphone while thinking about something else, but also doing yoga and meditating, will help a lot. Embrace the spectrum of calm to fractured. You'll need to call upon every one of those mind/body/spirit spaces to get the most from this time.
Today I'm laughing, kind of hysterically, from the rush of energy. Oh my god. One thing is for sure: the next few years will not be boring. Onwards & upwards. Let's go.