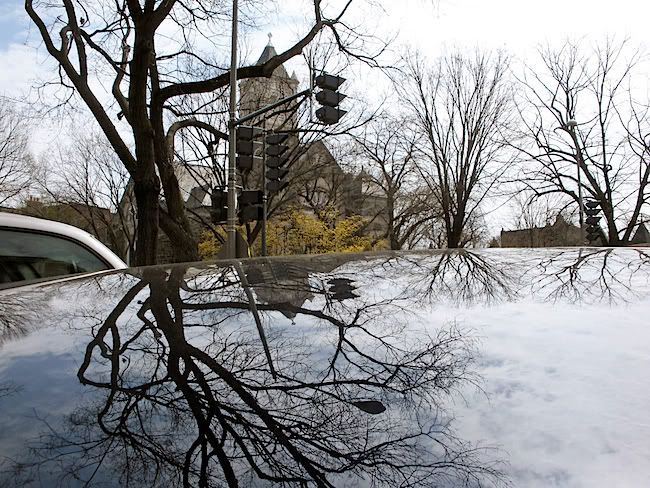 This morning I remembered that after the Loma Prieta earthquake, the only pictures floating around (mostly on TV, there wasn't an internet then) were of the worst aspects of the destruction. I googled "Loma Prieta earthquake" -
this link
shows what came up in the mix.
I lived in San Francisco then. I experienced the earthquake while waiting to pay for a pizza at a groovy restaurant in San Francisco's civic center. I saw the ground turn into a wavy line, I dived under a table along with everyone else in the groovy pizza place. It took me an hour to drive home, even though I was on my scooter and had the option of riding down sidewalks. My commute, ordinarily, was 10 minutes.
I can tell you that though we were scared out of our minds for awhile,
most
of the Bay Area was only slightly affected by the quake. There were no pictures on TV of my neighborhood (Bernal Heights) where the impact of the quake was minor. In my house, a few books fell over. There were no televised pictures of our neighbors, sitting together every night for awhile after the quake, drinking wine and telling stories. There are no published pictures of how well we treated each other after the quake. It actually scared us out of our San Francisco attitude. We made eye contact, talked with strangers, we were careful with each other.
Of course what happened in Japan is hundreds of times worse than what we experienced in 1989. Still, there are parts of Japan that are unaffected, where the buildings are standing and people are going about their business as usual, especially in southern Japan.
Looking at all those terrible pics and videos frightens me. If I spend too much time with images of destruction, I begin to spiral downwards into a dark place that is no good to anyone. Without ignoring the suffering and destruction, I'm trying to find a place of balance that includes the knowledge that the entire country has not been destroyed.
I'm singing, mostly just
Ohm Shanti
over and over again until my sinuses rattle, singing and holding in my heart and mind the idea that there are other stories unfolding in Japan. It isn't
just
destruction. Struggling to entertain a variety of stories, other than what we're being fed here on the network (and no doubt, on TV) helps me cultivate hope for recovery and healing.
Against everything I see/hear on the network, I
will
cultivate hope. I will. Do you believe me? Shalom.