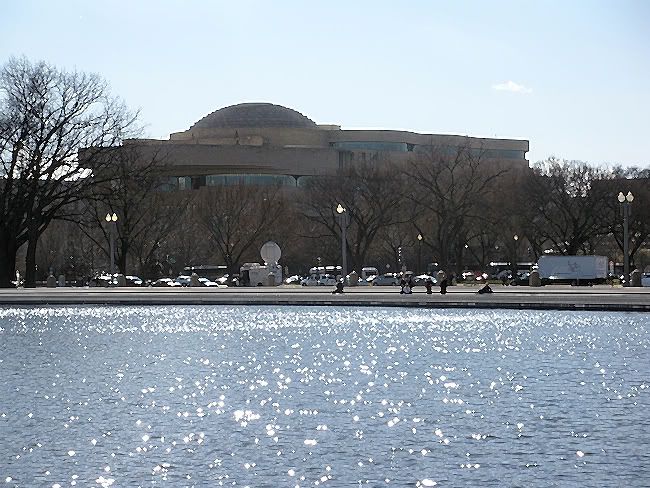 Splendid sparkles on the reflecting pool west of the Capitol. That cool shape in the background is the Indian Museum.
It was gorgeous yesterday, warm with a nice breeze. So I walked - of course! It was a nice, long walk all over the national mall, downtown, then home again. And yeah I was sneezing a little bit, my eyes itched. I had the presence of mind to buy some Claritin, pop one. But of course I kept walking. At the conclusion of winter, especially this past winter which was so cold, seemed so long, it was glorious to stretch my legs, connect with the uprushing energy of spring (the trees are going to pop any day), listen to the birds.
Ahhhhh ...
Unbeknownst to me, even though
nothing has bloomed
, spring pollens were on the move, riding the wave of that sweet breeze somewhat in the same way that I travel to Zone 10. Hmmm. The grains of pollen landed in my hair, on my clothes, found their way into my eyes and of course I inhaled them in great, ecstatic gulps of air. Towards the end of my walk, things took a turn for the worse. Last evening I spent a lot of time blowing my nose, way more time than I would have preferred.
One thing I continue to be baffled by is my body's resistence to the magic of pollen. My immune system considers the powerful life force of springtime to be an enemy of great proportion. My immune system thinks spring pollens are toxic.
It's an odd quirk of body/mind/spirit - a conflict - a big problem. I have acupuncture and herbal teas and Claritin, homeopathic remedies, yeah yeah. Nothing I do completely resolves this inner conflict, however. A sneezing shaman? It ain't right, I tell you! It ain't right.
Rising on some invisible spiral of energy, these sea gulls whirled in circles above the Capitol just as I walked past, then landed again on the water in the reflecting pool, as if nothing had happened. Very cool.