Revelations of late have been profound and banal ... isn't it always the way new versions of old stories unveil themselves? Some things that have come to me are just kind of silly. For instance, I've realized fashion is a way of mirroring. It's the way we identify ourselves as high ranking members of the pack. Fashion is instinctual behavior. Fashion is no different than the way in which dogs pick up on each other's traits - usually the most annoying traits, should say. When I moved into the house on Tennessee Avenue, Jake had never howled - never. But as soon as he heard the other dogs in the house howling, he picked up the habit, no doubt thinking (in his canine way) that the fashion in the house demanded a lot of mournful howling when sirens could be heard. He howled to his dying day.
Maybe I'm the last person to figure it out. But - does it matter? Well ... it helps keep me from being as judgmental as I might be when I see all the middle school girls wearing their hair in french braids, all the 20-something hotties in short shorts and ankle boots, for instance. Even I bought one of those silly little fedoras - though truth be told, those hats are no longer in style among the truly cool people. I run rather late in the world of fashion since I was born without that gene.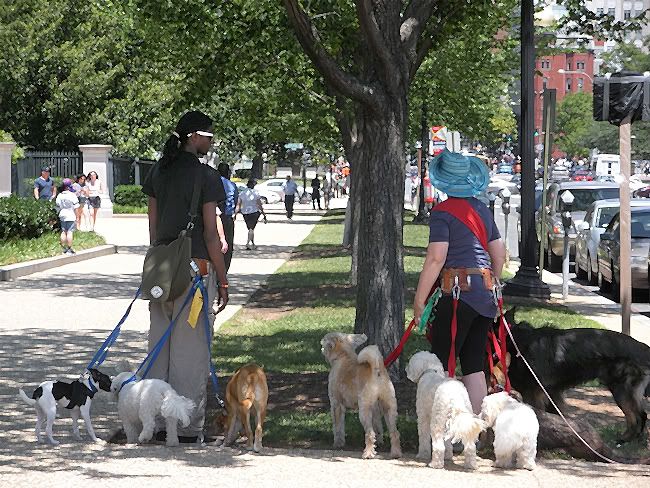 Most of what's actually interesting about recent revelations has to do with love. I've been healing fears, opinions and judgments about love at a very deep level; it's kind of miraculous. After thinking about the comments on yesterday's post (thank you!) I've come to the conclusion that losing oneself in love has more to do with poor self-esteem than passion. I honestly didn't know that before now. Rather than withdrawing or keeping people at an arm's length, perhaps I could bolster my self-esteem, keep my center of gravity, and love boldly. Yes? I say yes. (Thanks, too, to Jo who has been pointing me in this direction for awhile now.)
I've been buggered by love gone bad so many times. Not just romantic love - in friendship too I've been betrayed, dumped, shat upon. Oh man, my heart has been broken so many times. I am a resilient person, though - fortunately or not fortunately - so I tend to always come back for more.
One of my clients who regularly attends AL-ANON meetings has shared with me some of the tools they use. One of their aphorisms is about how expectations set one up for resentment. That's interesting when thinking of love. When I love, I want to be loved back at equal strength. It seems important. It seems fair. When that doesn't happen, I am resentful, hurt ... awwww I'm so pathetic at times like that. Just recently, really only during the past few days, it has come to me to just let love flow, go where it wants, catch myself in the act of expectation and let go again and again. This is definitely a strenuous practice, but I feel, at last, up to the task. I've let go of other stupid, destructive habits, why not release this bad habit of love? Well? Why not?
There's more, but this is enough for today. Another tool the AL-ANON people use is an acronym: WAIT, which stands for "Why Am I Talking?" What a good question! I've said plenty; stopping now.