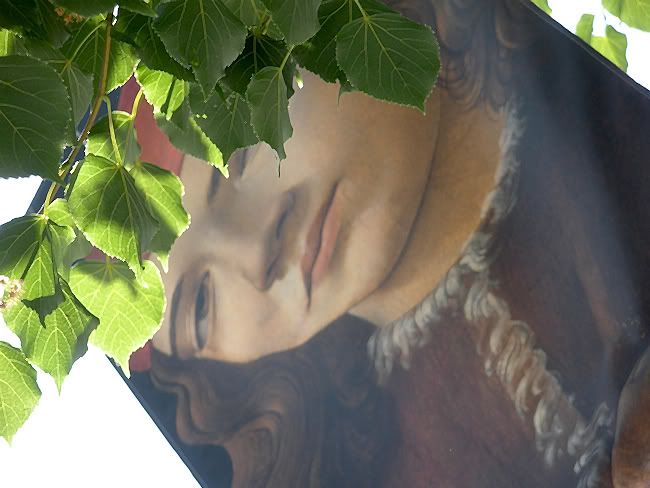 So surreal looking, isn't it? It's a banner hanging at the perimeter of the fountain in the National Gallery sculpture garden.
When Dan Gurney assures me that loving IS cool, I suspect he's imagining a different scenario than mine. Maybe he thinks of the Dalai Lama allowing multiversal, divine love to pour through him, increasing his gracefulness and poise, even in the worst of circumstances. Yeah. That is definitely cool.
What I was imagining is the kind of love that reduces me to a blubbering, quivering, freaky mess. Once upon a time, coming face to face with something incredibly beautiful, like Multnomah Falls in the Columbia River Gorge, for instance, or standing before a painting like one of Picasso's early (pre-cubism) portraits, brought into my heart a feeling of love so pure, it made me weak in the knees. Yeah, I admit it, I used to literally fall down when I encountered beauty like that. Love is so powerful. Whoa. I fell down at weddings, while hiking, at concerts and art exhibits, and of course often in the presence of a beloved. Yeah. Now c'mon, that is NOT cool! Ha!
During my priestesship within Reclaiming I trained myself not to buckle under the impact of profound beauty, profound and heartfelt love. I practiced letting that sort of experience make me stand taller. I learned, little by little, to take a deep breath (rather than gasping), put my shoulders back, lift my chin, suck in my gut and stand tall when the power of love knocked the breath out of me. Thinking now about how I talked myself out of being so damn vulnerable to powerful love is interesting. My learned behavior is no cooler than my previous reaction, except it's less embarrassing to stand tall than to crumple under the influence of great love.
In a sense, that learned behavior is one way in which I hold big love at an arm's length. By tilting
against
the tenderizing aspect of love, I became in a certain sense more functional (i.e. I can now attend the births of babies without rolling around on the floor, thank god!) but it took me one big step backwards in terms of letting love flow through me, unhampered.
I'm not really looking to crumple under the influence again. That was too much of too much - very intense (true to my nature) but not sustainable. But I would like to be able to become softer when I encounter powerful love again, rather than bigger and badder-assed - tougher - as I have for at least twenty years.
In love as in all other things, I seek the Tao of Goldilocks. It's interesting to contemplate - how to be who I am, passionate and intense, without letting those qualities get out of hand or shut me down completely. It's a great challenge - but - I'm up for it. I am. Oh yeah.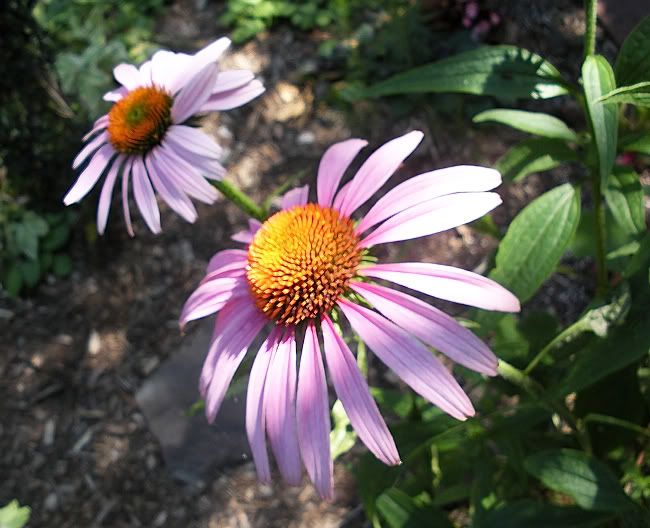 The cone flowers look so earnest, don't they?