Next weekend is my high school reunion in Kansas City. I will not be attending, but I'm excited especially for the friends with whom I've reconnected on Facebook. It sounds like it will be a lot of fun.
The energy of gathering is very powerful. Just this week I've "coincidentally" heard from people I haven't seen in a long time, people I was once close with in many different circles, folks from many different chapters of my life. This past week, I've also met (in "real" life) with a blog friend/sister as well as a Facebook friend, both of whom were visiting DC for reasons of their own. It's so interesting, the timing of these surprise reconnections. I love synchronicities, and, too, hearing from all these previously long-lost friends cheers my heart and mind. My capacity for love is far greater than I normally give myself credit for! That is a GOOD thing!
Last night I dreamed I was attending a different kind of reunion, a banquet my mother was hosting for all who have died in the Afghanistan and Iraqi wars, "including the civilians!" she kept saying over and over again. She wanted everyone to know this was not only for American troops. That is so characteristic of my mother's point of view, it felt quite real. My father was there, talking about the trials and tribulations of being a middle child with me. In the dream he had forgotten that I was his middle child. (He was the middle child in his family, too.) It was a very loving reunion.
Jake was there in the dream, too, healthy, powerful, and doing the best he could to get along with all the people. He ran loops around the gathering crowds, joyful and enthusiastic. He only snarled a couple of times, once at someone mowing the lawn, once at another dog (very true to his nature). Eventually I convinced him it was time to go inside for dinner.
At the end of the dream I realized I was on a cargo plane, coming in for a landing in Washington DC. The landing was one of those perfect experiences when you can barely feel the wheels touching down. The crowd burst into applause after which I woke up. Within seconds I burst into tears - I was sad but also felt an upwelling of deep seated joy. My parents were such characters! And ... damn I STILL miss my dog so much.
Maybe I don't give myself credit for being as deeply loving as I actually am because it's so hard when loved ones die or slip away. I also harbor a sneaking suspicion that I believe it isn't cool to love so passionately - and my ego is VERY invested in being cool. For heaven's sake. This morning I'm at ease with my capacity for deep, enduring heart connections. That capacity is quite expansive! It's kind of miraculous, really.
With gratitude to every being I love and have loved. Y'all know who you are! Happy Sunday.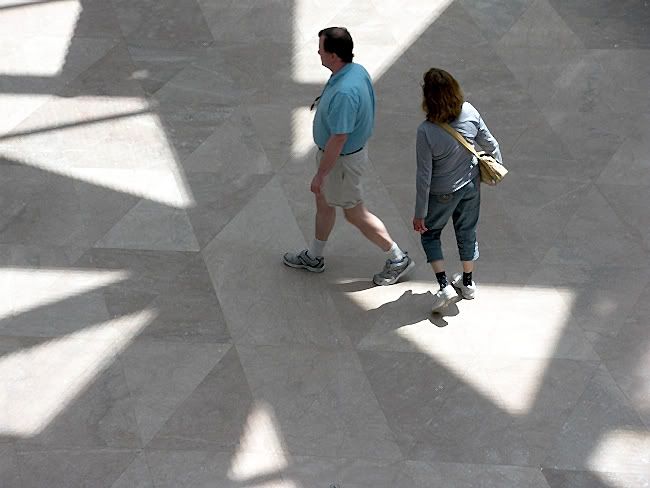 Cool shadow pattern on the floor of the East Wing of the National Gallery.