Everyone's favorite birdbath, outside the P & C Market by Lincoln Park.
I think we humans are dualistic in outlook for the simple reason that our physical design is about symmetry; two eyes, two ears, two hands, two feet. We have left and right lobes in our brains, left and right chambers in our hearts, two kidneys, two lungs, etc. We are physiologically
almost
symmetrical.
The world we live in is - in the coarsest sense - a strictly defined yin/yang environment of winter and summer, night and day. We oscillate, breathing in, then out, we sleep then wake up.
OK I know - what about spring? Fall? How about dawn and dusk? Trance states, the space between the breaths?
What about dark matter?
Where does THAT fit in with my simple schematic of the world as I perceive it? True, I'm being crude in looking at the world as a black and white place. Maybe I should say it's
easier
to think dualistically. Probably that's better said.
Because it's easier, I've always thought of paradox as a combination of opposites, but lately I'm thinking more holographically, that paradox contains not only the opposites but all the phases inbetween, that (for instance) Jake's death was the saddest event of my life so far, while also a tremendous relief, plus every other kind of emotion that falls between those extremes. The paradox of Jake's death (as well as its impact on me) would look more like
Steven's fibronacci clouds
than any depiction of half-empty, half-full. Holographic perception makes Jake's death more interesting. Since I'm grieving like crazy, it might as well be interesting, don't you think?
The parallel rites of passage occuring within my family soul become a lovely kaleidoscope when I think holographically. It's a design in which my great nephew's birth becomes elegantly entangled with the sadness of Jake's death, as well as with the death of my sister's cat, Hobbes.
Oh for heaven's sake, what am I talking about? I think the heat is getting to me. Time for a glass of iced tea and a break from my furrowed brow and tendency to overthink. Yes? Yes!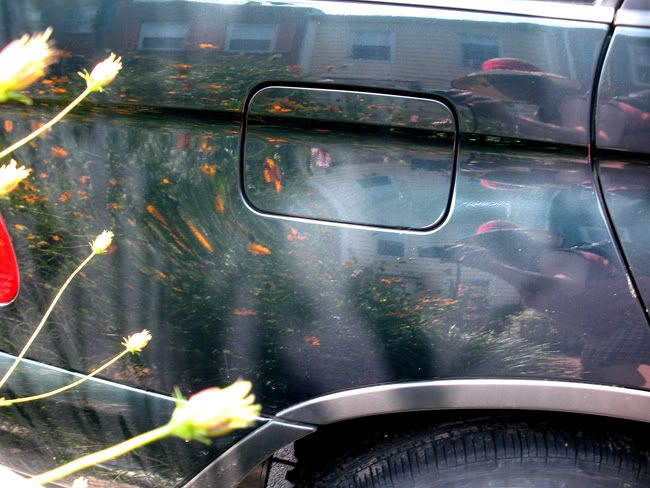 Dualistic me, dualistic flowers ... but where's Jake?