If you look carefully you'll see the last quarter moon in the upper left hand quadrant of the pic. I love this angel, part of the Columbus fountain in front of Union Station.
Two weeks have passed since Jake died and the truth is, I'm feeling better. So many of you, and so many of my 'real life' friends were kind enough to remind me that each day I would come back, little by little, to myself. It is happening. I've got a ways to go, but I'm feeling more whole every day. Thank God for the passage of time.
I also credit being love bombed by so many people as a big piece of the healing. If someone you know is suffering and you wish you could do more than express your sympathy, please know that those expressions of caring and empathy are genuinely, tangibly healing. No one can take away another person's pain, but when you generously offer a shoulder to cry on, or just say you wish you could change things, those simple acts make a big difference.
In addition to being love bombed, I've gone hard core with treatments. I believe treatments are post-modern, twenty first century soul retrievals. Though no one treatment is comprehensive (well ... maybe Chinese medicine is), all together they can bring back a serious chunk of soul. I've had acupuncture and therapeutic massage - of course. I've had a manicure and pedicure. Tomorrow I'm going for a haircut even though I don't really need one just yet. But I need a little bit of the sadness trimmed off. I need to lay my head back into the funny sink while someone else washes my hair. I need treatments!
The weather in DC this summer has been incredible - I'm talking low humidity and temperatures in the 80's instead of the usual scorching toxic steam bath. The glorious Colorado weather makes it possible for me to take epic walks all over the city I love so dearly. As I learned from reading
The Secret Garden
, fresh air is always necessary, especially to cure a broken heart.
My friends here and in 'real life,' the therapists administering the treatments, the steady ticking of the clock and even the weather gods have all conspired to help me recover. I am more grateful than words can express. All I can say is, wow.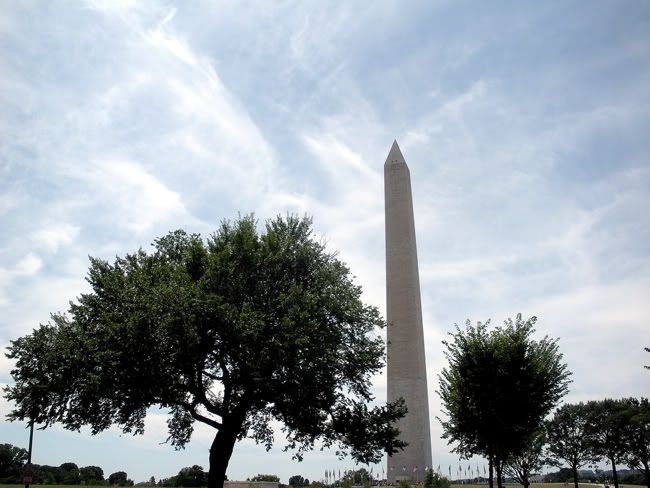 Really cool looking, gauzy clouds gave the sky a nice texture yesterday.