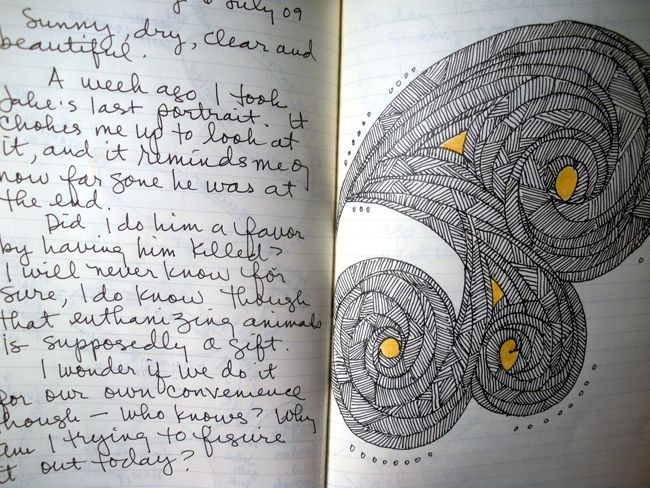 Ronda
published a pic of her handwriting earlier this week, a meme she picked up somewhere. Oh. I love this meme. I agree with her that seeing a person's handwriting says so much about the individual. By doing it here in the blog world, we can finally become real pen pals. Very cool! Thanks, Ronda.
The above pic is a page from my personal journal, written one week after Jake died. I chose this page because it includes one of my doodles. I think of my doodles as part of my handwriting. They are woven in with almost every page of my personal journal, and often accompany to-do lists, notes to my roommates and such.
It blows me away to think that, before the
typewriter was invented
- not that long ago! - all books were written by hand. Think about it. Could Stephen King or Barbara Cartland have cranked out as many books if they had had to write them by hand? The idea itself is daunting. I love thinking about, for instance, Tolstoy, with nothing more than a quill and inkwell, writing every word in
War and Peace
. That dude was mighty!
An interview of the great comic artist Lynda Barry a few years ago included this story: when she was writing her book,
The Good Times are Killing Me
, she got a terrible case of writer's block. Finally she went into her art studio, picked up her paintbrush and began again. After that, the story flowed out of her. She
painted
her book. Wow. (It's a great book, fantastic. Not very long, understandably).
Writing by hand is slow; even I - a great lover of cursive script - become impatient with the process sometimes. I'm a super fast typist, and, too, there's writer's cramp, a very real, very unpleasant side effect of writing by hand. But when I'm creating an outline from which to teach (for instance), I can't do that via a QWERTY keyboard. It's such a different way of thinking. My personal journal would not be personal if it wasn't written by hand. Speaking only for myself here, of course.
Handwriting is a quirky, unique and completely personal expression of the mystery of the individual. I'm keeping my fingers crossed that some of you will publish images of your own handwriting. If you feel like it, that is.