How sweet of this kid to throw his legs up in the air just as I was snapping this pic.
Sometimes I hear a song so compelling that I end up listening to it repeatedly, over and over again. After a few dozen listens, I know every note, every word even (and I'm not great with lyrics). I figure these songs are doing something for me; the vibrations are setting my energy in order, the melodies and ideas are reworking a segment of my neural network, or helping mend a long forgotten heartbreak. After awhile, I no longer "need" to hear the song, at which point I believe it has had its therapeutic effect.
Sometimes I get fixated on certain movies, particular foods, even art exhibits. My assumption is the same - that there's something about these minor obsessions that is helping me heal or perhaps getting me ready for a leap of personal evolution. I usually go with the flow of the repetitions, why not?
My art obsession
du jour
is
The Art of Power
:
Together, some 75 works illustrate the use of luxurious armor in projecting an image of royal power in Imperial Spain.
Strange, isn't it? I mean really, "luxurious armor" is definitely not my thing. What
is
luxurious armor anyway? If you want to know, go check out the show. The equestrian armor is truly gorgeous, while the children's armor is - well - just weird.
You don't have to hold a Ph.D. in psychology to understand why this show has caught my attention. As vulnerable and wide open as I am right now, certainly deep in my psyche I believe, at least for the moment, that sporting some fancy armor would protect me until I get my bearings again.
As for whether or not being shielded makes a person powerful ... hmmm ... not sure about that. But the show is fabulous.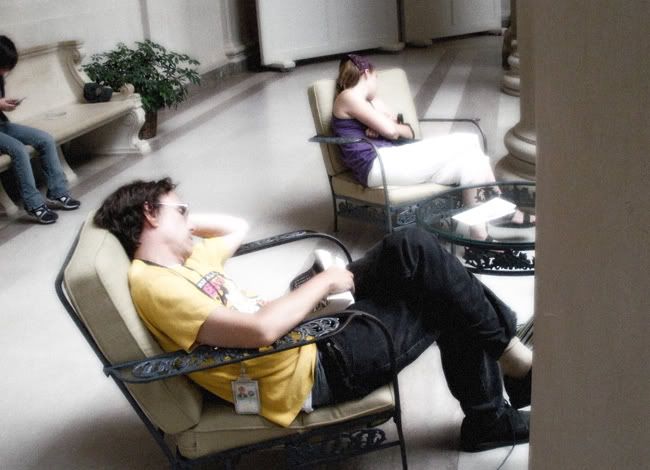 National Gallery visitors, napping on the comfortable upholstery.