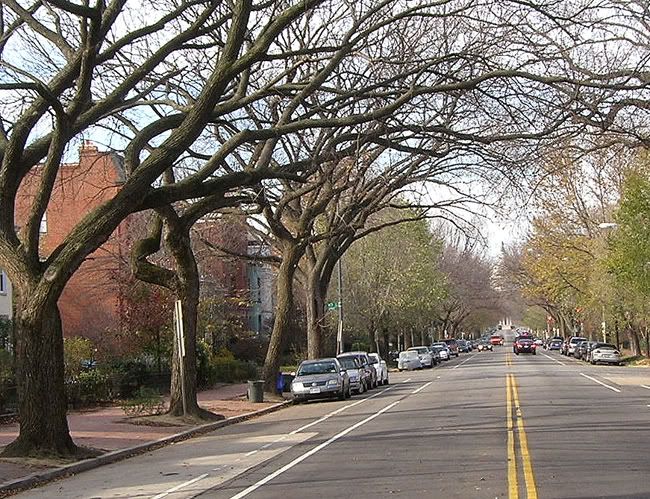 Can you see the Capitol dome at the very end of E. Capitol Street, visible from Lincoln Park once again, now that the leaves have fallen?
Every day these days, the Washington Post publishes a feature about how worried we Washingtonians are that the Obamas won't like Washington DC. They love Chicago, love their regular normal Chicago lifestyle. How will they adjust to DC?
But - the Obamas will
NOT
be living in DC, not the way the rest of us do. They won't be sitting around Dupont Circle on a sunny Saturday, walking down to the see the cherry blossoms early in the morning before the tourists. They won't be sledding down the hills on the Capitol grounds, stopping in at Granville Moore's for a buffalo burger, or Teaism for a chai, oh no. You won't see them at Eastern Market, or in Rock Creek Park hanging out. You'll never catch them standing in line at Whole Foods, packed into a Metro car during rush hour or gazing at their laptops while drinking coffee at Tryst.
The Obamas will be living in the White House which is kind of like living in jail. Actually, it's like living in a presidential zoo, barricaded on all four sides, mobs of tourists pressed up against the fences trying to catch a glimpse of the first family.
Sometimes the Obamas will see DC through the window of a Secret Service vehicle. The girls will see the inside of Sidwell Friends school. There will be official events during which they will be surrounded by security people and massive crowds, but that isn't life in DC the way the rest of us know it. Thank God!
Up until JFK became president, anyone could walk right up to the White House and knock on the door. It's incredible to think about that now. Lincoln liked to walk from the White House to the Capitol, take some air on his way in to work. He often encountered the likes of Walt Whitman and other famous citizens of the District along the way. I imagine them tipping their hats to each other as they passed.
Will the Obamas like living here? It's a theoretical question. How will they endure life in the White House? My opinion: they're tough. They'll be alright.