It's freezing in Washington DC, much colder than it usually is in December. Tonight we'll experience a hard freeze with temperatures dipping down into the lower 20s. Brrrr. The wind has been relentless for the last couple of days. It's such a metallic wind, so dry and sharp. This wind cuts through even the warmest clothes. Walking around on a day like today is not pleasant, believe me.
Anyone who knows me understands that I pay attention to the weather. When the weather gods say
Chill, bella,
I listen and comply. Hence I will resist the urge to write about all the things that are coming through me for at least one more day.
Though, can I just mention briefly how much I've been thinking about the counterculture of the late 1960's, especially the peace-loving hippies? I'm thinking, if the souls of those who died in the Holocaust, especially in the camps, were reborn, wouldn't it make sense that those souls, reincarnated en masse during the baby boom, would want to live communally, love freely and openly? They shaved our heads in the camps, so of course we grew our hair as long as possible, of course we really hated the war in Vietnam, of course we embraced "flower power." We didn't see too many flowers in the camps, believe me. It's kind of a no brainer, eh? After living in fear, being starved, tortured, humiliated and murdered, of course we did everything we could to live without shame, liberated from every societal restriction.
"We."
Oops, I'm slipping back into it. As I typed that paragraph, Brother Wind gusted hard against the window. OK, I'm stopping now. Today I'll clean the chateau, run a couple of errands, meet a friend for dinner, a dinner that I hope will taste the way it's supposed to. I don't have to figure it all out as soon as possible, I don't have to encounter the dementors every day, right? Right. Right on. Shalom.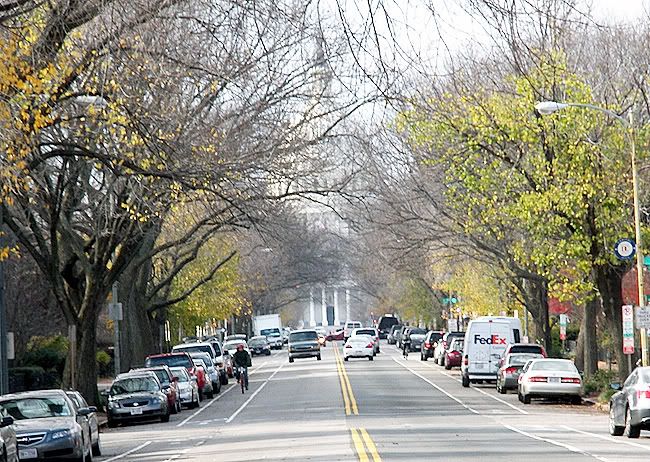 See the Capitol? It's completely hidden all summer by the thick tree canopy. The leaves are almost all gone now.