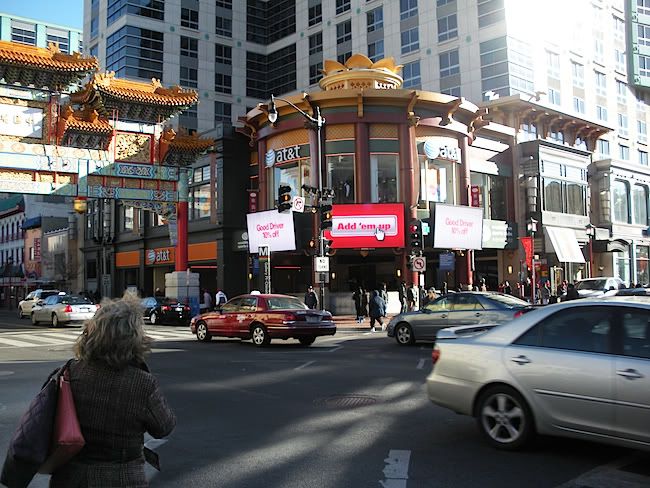 The vortex at 7th and H Streets NW, at the Chinatown gate. You can almost see the energy whirling counterclockwise in the intersection.
Ah. What goes up, must come down, yes? I say yes. I was saying NO yesterday when I woke up with a terrible stiff neck, no doubt payback from the marathon cookie bender, but I'm thinking it was also a form of whiplash in the wake of my sublime experience of the dragon-arrow eclipse.
When I marched outside in the middle of the night to dance in ecstatic shamanic alignment with the eclipse/solstice, I didn't stop to think that the energy would eventually wash back. Ecstacy does not include common sense, uh-uh. My beloved Isaac Newton understood that
For every action there is an equal and opposite reaction.
Yeah.
Twelve hours of sleep, a fistful of Advil and three hot showers later, I'm on the mend. Onwards and upwards, eh?
Happy Christmas Eve to all who celebrate. To everyone else, good luck trying to do anything BUT celebrate. When it comes to Christmas in the U.S., I surrender totally and completely. Cheers!!
Chinatown subway escalator ... this is the one that went manic a few weeks ago. Who could blame it?