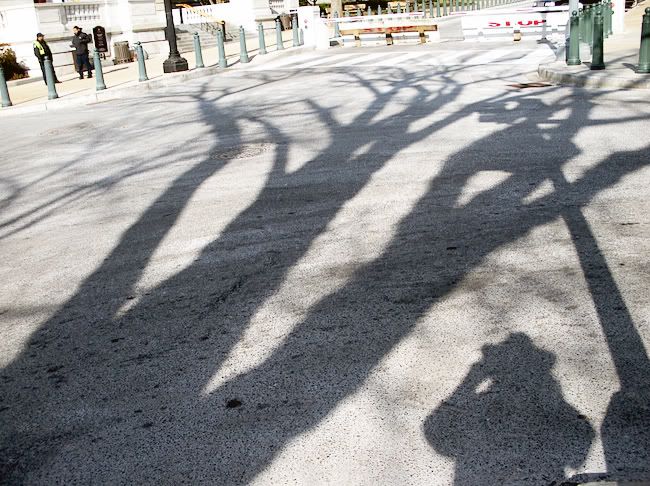 I cried me a river yesterday. Not only was I expressing my grief about the death of Tessa Edwards, but I think in many ways I was releasing all of the momentous events of 2010 in one big ole storm of tears and snot (because when I cry, I always have to blow my nose, too - don't you?) So much stuff came out of me, I wondered if I had suddenly come down with a cold. Fortunately and finally, the storm of release subsided, leaving me at last peacefully empty.
Please understand, this was a GREAT year for me. A few examples of wonder from 2010: I moved house into this beautiful nest at the base of the chateau, on a beautiful street just seven blocks from my beloved Capitol. I've had houseguests and dinner guests and many quiet evenings. I love living here! Also during 2010: my heart opened to romantic love which - unfortunately - didn't work out, not at all, but the experience was quite a revelation. It can happen at any age! I didn't know that, how cool. And: halfway through 2010, after talking about it literally for decades, I gave playing the bass a go, and at last was able to let go of that ambition without regret. Just one more: I let my hair grow longer than it has ever been. Oh man, I LOVE my long, silver hair.
During 2010 I experienced a number of soul retrievals. I was reconnected with an ancient set of lifetimes as a rather run-of-the-mill warrior. I reunited with high school friends at a retreat in southern Missouri during which I was reminded of all the GOOD things about that period of time in my life. I traced the silver cord of connection - at last - back to World War II, found my place there, and began preparations to heal the part of my soul that suffered so terribly in the camps. I learned from first-hand experience that karmic ties can indeed be broken, oaths that never should have been made can be dissolved. Who knew?? That revelation and the broken oath lifted my heart. It was so liberating.
Several friendships deepened during this past year, always a wonderful thing. I laughed, walked around, took pictures, danced, dreamed, cooked, socialized, worked hard and enjoyed life. 2010 was a truly stellar year.
I'm not sad to see the end of 2010, though, not at all. It has been a good year, but it's over now.
Hasta la vista, baby.
Onwards & upwards to 2011. One more day. Let's go! Oh yeah.
I can't imagine what it would be like to be as cool as Diana Krall.