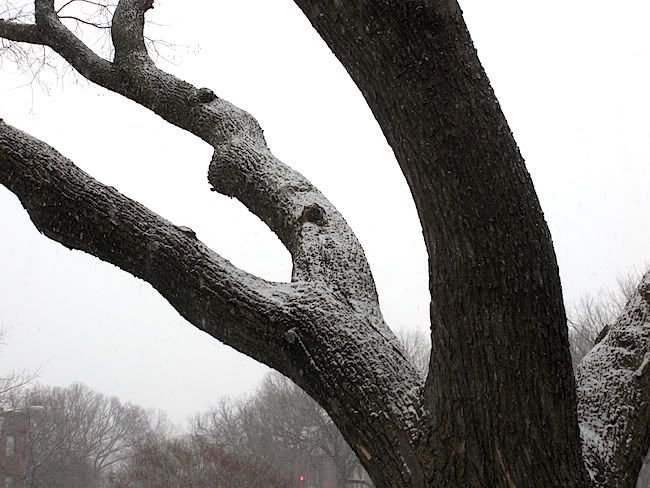 People on the sidewalks smile when it's snowing, something I rarely see when I'm out and about during a rainstorm. Snow is a blessing. It bestows clean, clear white light to the landscape. It turns the landscape into an open body of water, temporarily of course. When it melts, the trees and plants are well watered. Snow is good! It's so good.
Everything looks beautiful, enhanced, by snow. There is no such thing as a rain globe, right? But who doesn't love a snow globe? Well?
It snowed yesterday in DC, a big surprise, a wonderful surprise. As my friend Donald would say, the snow ponies arrived, bringing light in the form of frozen water crystals to DC right here, right now, during the darkest days of the year. Sweet!! It wasn't a lot of snow, maybe an inch or two or three; just enough to coat the trees, just enough to make everything gorgeous. Oh yeah!
I know there's an anti-snow contingent out there - all of y'all who are cranky because snow makes for a slow, slippery commute. What I want to say is: Dudes! Get a grip. STAY HOME FROM WORK! Or ... leave early. Put on a hat and some gloves, wrap your neck in a nice warm scarf. Then open your eyes and heart to the beauty and wonder of a pre-solstice snowfall! C'mon!!
I love snow! Happy Friday. Shalom.