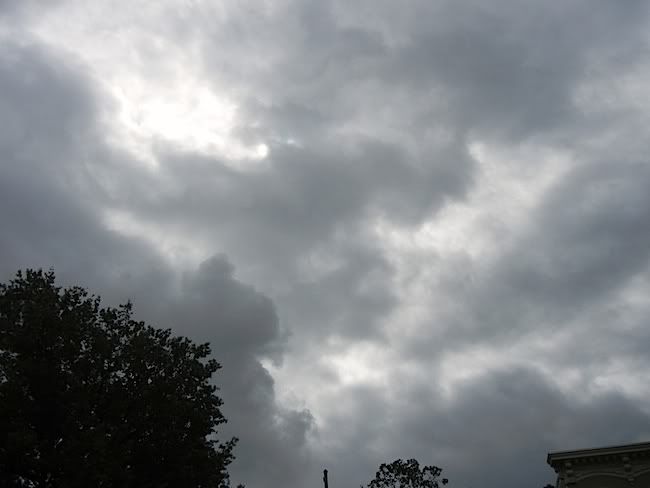 The sky is in a piss poor mood. Still.
Remember when everyone was all crazy about how the internet was going to cause people to become isolated, stripped of the ability to interact with others? I remember - it was a big thing for awhile. Tongues and fingers were wagging everywhere about what disasters would arise if we continued to develop cyberspace. (Does anyone still call it that?) I guess that's when people were mostly conversing one-on-one through email, and only going on the internet to watch porn.
I read recently that social networking and video streaming are now the top two ways people use the internet. Porn has been kicked down to third place or maybe even fourth - a lot of folks shop on the internet. Yeah!! As one of the most Aquarian of Aquarians you'll ever meet, I am happy. The internet as a place to meet and greet, stay updated on one another's goings on, create friendships, share news both good and bad, makes perfect sense. We are pack animals, I tell you. We always find a way to connect. When in doubt, we cluster. We always have.
No I am not nostalgic for the "good old days," whatever that means. I am not a romantic in that sense at all. Life is the same as it ever was, overfull of experiences that are stressful (like being chased by predators, or wondering if the clan down the path is going to attack, or worrying about a business meeting with the boss). Life is also replete with experiences that are blissful always in any century or era (like the arrival of a baby into a happy family, a clear sunny day, the plush feeling of resiliency that comes after a very good night's sleep, feasting and toasting with near and dear ones).
I think we humans worry way too much sometimes, yes? I say yes.
All the years I lived on Tennessee Avenue I never paid much attention to the Mary McLeod Bethune statue. The sculptural style repels me, for one thing. But it's kind of growing on me, apparently, since I've featured pics of it almost every day lately.