David Eagleman would be proud of me for switching up my life rather dramatically as I have recently. I am, at heart, a creature of habit; routines, regularly scheduled events and some degree of predictability are wonderful, soothing, and reassuring. Nevertheless I have lived a life of transformation and re-invention ever since I left my parents' home so long ago, breaking the pattern of my routines over and over again. Sometimes I wonder about myself!
I know people who have lived very stable lives. I look at my sister Hannah who had a wild youth, but then married at a tender age to the man she is still married to, a fabulous person, should say. They've moved house ONCE since they married. They raised two AWESOME children who also grew up to be stable, sane, wonderful. I am in awe of their whole family.
What I want to say about moving my practice into the chateau is that it is better in every way I could imagine, also in ways that wouldn't have occurred to me. The space is more cozy, it's much quieter - even the fact that there is carpet in the room where I work means that when I move the stool around, there's no clanking or banging against a wood floor. The chateau is set back from the street, so traffic sound is muffled. The location is much more convenient to the metro, and kind of snazzy, being on E. Capitol Street. It is professional, below the dentist's office. Some days I ask myself why it took me so long to make this big change.
I had to shake my routine, break a pattern I believed was right since the beginning of my career. It was a BIG change. So far I am enjoying every part of it. I'm certain there will be facets of this way of working that will get on my nerves eventually. I'm human, after all. So far, I'm rather in awe at how well it's working for everyone.
I resist change, mostly, or go kicking and dragging my heels, but it always helps life unfold to the better way. You'd think I would remember that, but somehow I always forget. I am so in love with my routines. For heaven's sake!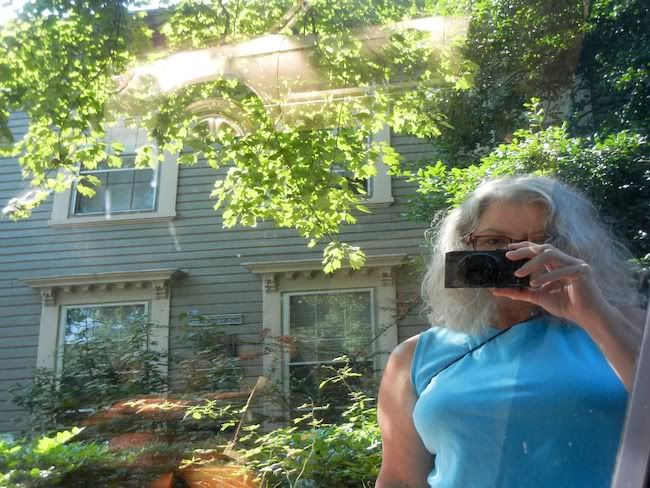 There's a car up in that tree!