Indeed those wispy cloud things look like Star People, don't they?
It was gorgeous yesterday, sunny and actually warm. Yes, WARM! It bet the temperature here on Capitol Hill reached 70 F. This lovely weather will not last at this time of year, but it was a tantalizing preview of the season to come.
I was out there for hours, walking around, thinking, praying, singing my therapeutic song ("I Will Be Light" by Matisyahu, the Hasidic reggae hip-hop singer). I was breathing, smiling, dancing around shamanically. Of course I was!
Eventually my wanderings lead me to the Washington Monument, one of my favorite places in DC. The title of this post refers to what a Peruvian shaman said when he saw the Monument for the first time. Oh yeah.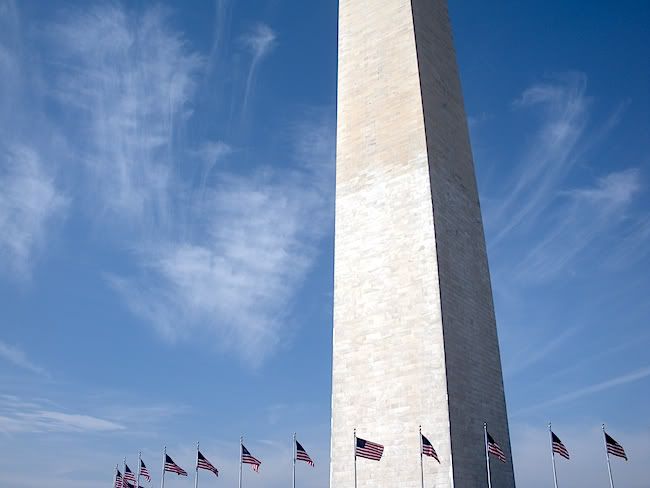 You can't imagine how happy I was to hang around for awhile at the base of that huge, elongated pyramid. The breeze was sweet, and there was only a smattering of tourists. The throngs won't arrive until the end of March. (No offense to the tourists, but it's very hard to share the nation's capital with the nation. It just is.)
I danced around, then put Reiki into the four corners of the base of the monument. Though unclear as to what that means or what effect it has, it's something I always do. It can't hurt, so why not?
Today is very warm and overcast. I wouldn't mind it at all if we got some rain; it has been such a dry winter in the District.
How glorious it was/is to reconnect with the world outside of the chateau. I felt yesterday in so many ways that I was back home. It has been a long, cold, rather discouraging winter. With much gratitude to the weather gods for this preview of spring. Shalom.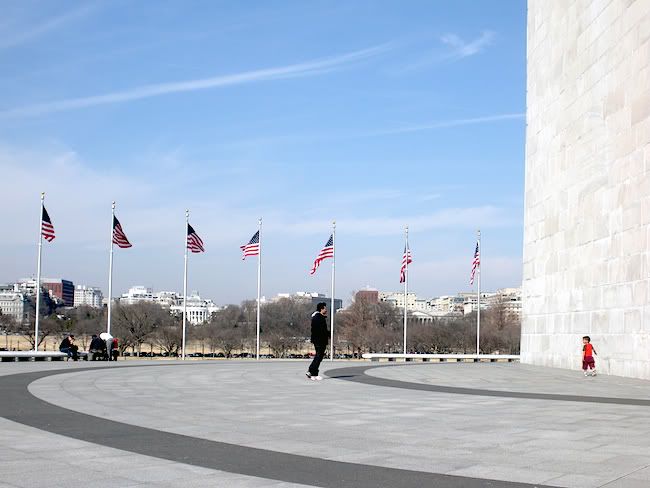 That little kid was as joyous as I was. So tiny compared to the monument. Ha. See the White House?