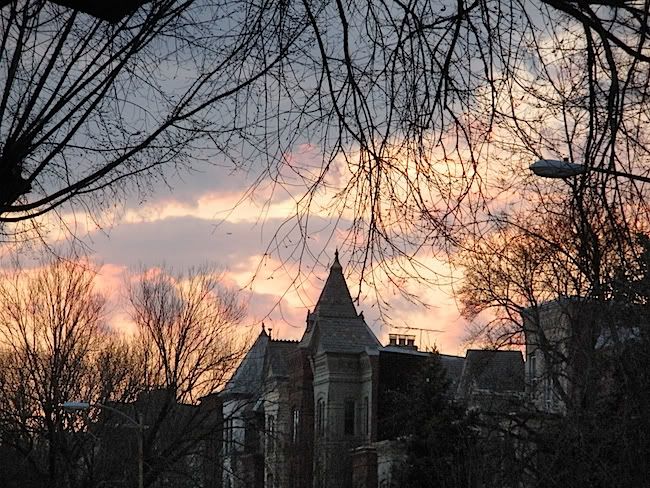 Though not as lovely as Ellen's sunsets, we've had some beautiful DC sunsets lately.USUAL DISCLAIMER: Either I'm psychic or psychotic - or both. You can decide for yourselves. OK?
Apparently those wispy clouds actually
were
star people, or so say my spirit guides. Part of my cosmology includes a strong relationship between the stars and we humans. The stars have admin assistants who hover in the upper atmosphere. Their job is to keep all of us here on the surface in contact with our individual and collective destinies.
I've written about the Star Mandarins before, at length.
Usually they stay way up in the mesosphere which is why I didn't recognize them straightaway the other day at the Washington Monument. When they come close to the surface, my sense is that they tend to hide themselves behind conventional clouds. But Thursday, they were not hiding, nor were they hanging out in the mesosphere,
appearing as noctilucent clouds.
Hmmmm.
What were they doing so close to the surface? Coming down into the stratosphere, for the Star Mandarins, would be the same thing as a human being going for a deep sea dive to check out a subduction vent or something. I can't imagine they would come down here without a good reason. They find our species kind of disgusting, in the same way that when we see pictures of the creatures that live at the bottom of the deep ocean, we tend to make a face, and say "Ewwwwww!" We're so fleshy - and dirty by their standards. We kind of gross them out.
So what were they doing here? For today at least I'm bringing myself to the here and now, leaving WWII in the mid 20th century where it belongs. How I wish that Peruvian shaman was close at hand right now so I could ask his opinion. Sometimes it's kind of lonely being a shaman in Washington DC in the 21st century. Ya know?
Two warm days inspired we citizens of DC to get outside, with or without dogs.