Historic Eastern Market, admiring its reflection in the hood of a shiny car.
I watched all 104 minutes of Leni Riefenstahl's
Triumph of the Will
yesterday, on youtube of course. Youtube is such an amazing phenomenon, isn't it? I was blown away - what a beautiful piece of work. Wow. Of course it isn't sophisticated by today's standards, but wow. I kept thinking about how devastated Germany was at the end of WWI, how people were literally starving to death, not to mention humiliated in every way possible. Then there was the Depression, which made everything worse. Conditions there were way more intense than you and I can begin to imagine. OF COURSE the people were more vulnerable to Hitler's promises and visions than they might otherwise have been. Here's a
link to one image I captured digitally
. Holy cow. What was that dude channeling?
Yikes.
In preparing for the trip to Poland, I'm not wanting to get entrenched in some rigid idea of what the Holocaust was; I want to open my mind and heart to what I
don't already know.
Sincere thanks to everyone who commented on yesterday's post. Y'all are so thoughtful, insightful and smart. THANK YOU.
I could get further into this topic, but today is not a day to dive deep into the black hole of WWII, nope. It's going to get up to 65 F. in DC today, and I have the whole day free. Oh yeah I WILL be out there walking around, looking at things, taking pictures. It's going to be warm enough to sit outside without a coat, scarf, gloves, hat. Oh man!
The Sufi acupuncturist would agree with today's strategy, to turn away from the darkness, get out into the sunshine and warmth. In fact, yesterday he gave me a musical prescription. I am to listen to
this song
at least three times a day for nine days. Greatest prescription I've ever had! I'll be getting out into the light, oh my yes.
Of course the warmth won't linger, which is fine. Late February is not supposed to be warm, not even here in swampy DC. But a day or two of sunshine and warmth? What a blessing!!
Seizing the day. Shalom.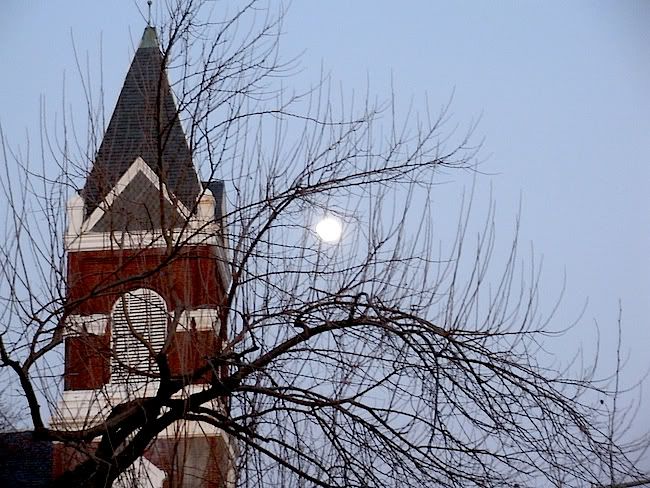 That ole devil moon is Very Full today. I'm feeling the buzz. Are you?