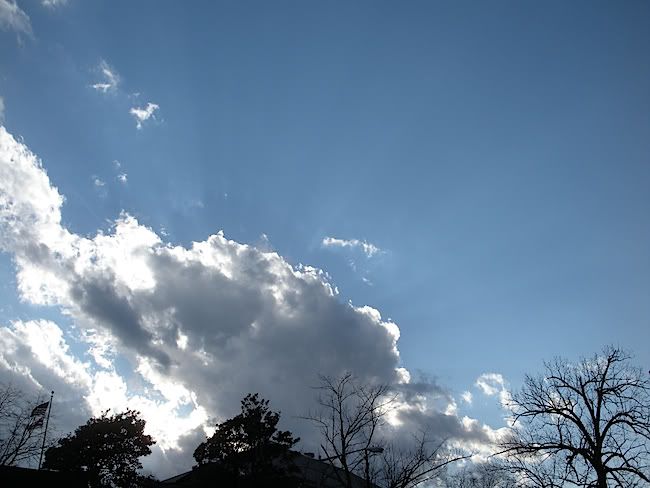 The truest truths all involve paradox, yes? I say yes, at least in my experience. For instance, life: the life force, the survival instinct. Life force is so tenacious, yet so tenuous. We could hang in till age 100, or drop tomorrow, you never know.
I'm thinking about the venerable dog Shadow, one of the house dogs on Tennessee Avenue. Oh man, that dog is OLD. It takes her several minutes in the morning to "unwind" - her hips and spine are so crippled by arthritis. She's blind mostly, and deaf, but the windhorse within her burns so brightly. When it's time for dinner, in spite of her arthritis and other aches and pains, she starts jumping up and down. She loves her dinner. We joke that Shadow might outlive us all; it wouldn't surprise me.
Also thinking this morning about a friend whose brother died yesterday. He had a massive stroke, went down into a coma for a couple of days. When they removed the life support machines, the man died soon after. Survival after a massive stroke is not always possible, or even desireable.
Death is not a bad thing. It's part of the cycle, it's just what is. There is almost always a sense of relief in the room when someone who has been suffering passes through the veil. I don't fear death, I really don't. However, when someone we love dies, for those of us still standing, that truth is inconceivable, almost unbearable.
I guess the paradoxical truth I'm looking at this morning is the way in which death is inevitable and yet its timing is a complete mystery. When we go is out of our control, unknowable.
My heart is heavy for my friend this morning. His brother's death reminds me to live well right now - today - this very second. Everything could change tomorrow, or in five minutes, you never know.
Carpe diem
, y'all. Seriously!
Fog is nature's version of the photoshop effect called "diffuse glow."