This guy was taking a self-portrait in front of the white house, using his phone. Sweet.
I finished the H.G. Adler book,
The Journey
, a couple of days ago. But I picked it up again this morning. Apparently I'm going to re-read it. That book, what a book. It's fiction and philosophy, and also true, the story of Adler's deportation to Theresienstadt. Rather than a grim, black and white retelling of the horrors of the Holocaust, it's a personal story. The word "Nazi" is never used, nor is the term "concentration camp." There's nothing black and white about it - it's fiction that strikes me as incredibly real. Reading that book is helping me unhinge from many old assumptions I held about the part we Jews played in the genocide. Wow.
What I was thinking today as I walked home from my appointment with the Sufi acupuncturist was mind games, the way hopes and fears obscured what was really going on, not only from us, the Jews, but from the Nazis as well and also from the German, Polish and French people who were close up but perhaps not quite as clued in to what was going down as I used to believe. In retrospect it's easy to imagine that everyone was lucid but in fact I'm starting to really get that no one, no matter what role they played, was truly in his/her right mind. H.G. Adler calls it "insanity." Oh man - truer words were never written!
Propaganda - it's so effective. I'm thinking about this today because a dear friend of mine posted an article from
The Patriot Post
on Facebook today. Just the name of this site explains exactly what kind of propaganda my friend wants to share. Does anyone tuned in to what's happening politically in the U.S. right now doubt for a second that this is an article written in order to juice up those who support the conservative mind game while enraging liberals such as myself? Well?
Similarly, when I see that someone has posted anything from the Huff Post on FB, I don't have to read the article to know it is intended to stoke my liberal righteousness (also a mind game) while enraging those who lean to the right side of the political agenda.
I'm so over the propaganda, so over articles written to massage the egos of one type of thinker while enraging another kind of thinker. I'm so OVER American rage, the way we can't even tolerate normal conversations with each other any more. I am so DONE with propaganda no matter whether or not I agree with the point of view behind it.
I wonder, would I have been wowed by Leni Riefenstahl's
amazing work
? Could I have been convinced, as so many were, that the final solution was a Really Good Idea?
Probably. Hence, I'll be avoiding propaganda - like the plague - from now on. Oh yeah.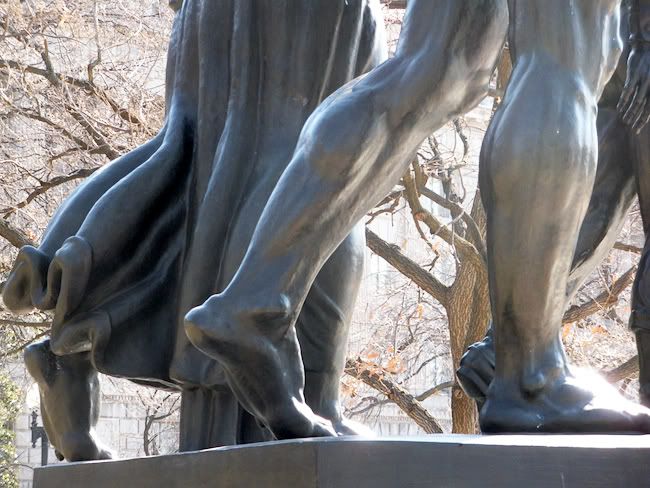 Speaking of propaganda, these are the feet of a sculpture dedicated to the Boy Scouts. Holy cow. It's monumental - kinda scary.