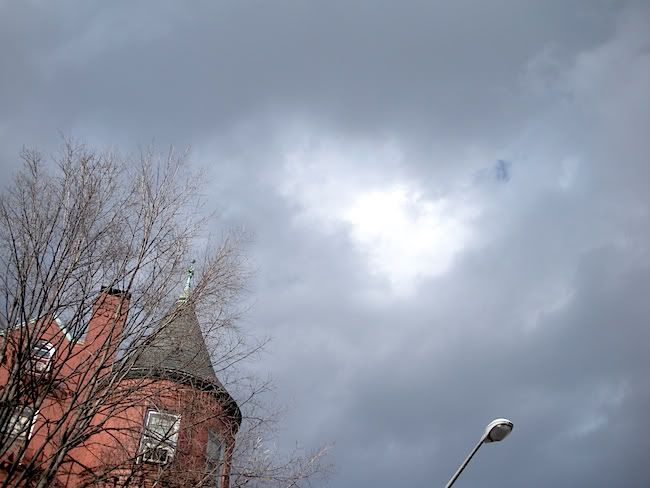 The sun came out for a little while yesterday.
Did I promise to interpret the big blizzard that pounded the central U.S. this week? Yikes. Didn't mean to! I connected with the storm, definitely, and I "got" something from it, but interpreting what I sense often isn't possible, and almost always sounds like stoner thinking when I try to put it into words. This paragraph is probably a disclaimer, yes?
Ever since the dragon-arrow of the solstice eclipse passed through the heart of the earth, the energy of this planet has felt (to me, at least) quite different. All I'm doing is trying to notice, just notice. What it means I can not say. Also: I might be making it all up! Who knows?
The hurricane-like superstorm that swirled over the U.S., the cyclone that just came ashore in Queensland, Australia, and other storms since solstice seem to me like a part of how the earth's aura is adjusting to what happened at solstice. See? I told you this would sound weird. In fact, it IS weird, I admit it.
I'll take one more crack at articulating what I'm feeling. When we humans take a deep breath, the fascia that surrounds the spine spirals inwards, "squeezing" and lengthening the spine. Momentarily, all the lovely curves of the spine straighten a bit. When we exhale, the fascia relaxes, unwinds, the spinal curves reform themselves. On a planetary scale, these huge storms feel like reactions and adjustments to something big that came through, similar to what happens when we breathe. Maybe.
Honestly this post is a truly
pathetic
attempt to describe what I've been feeling. Please forgive my inability to articulate my shamanics. For heaven's sake.
Here is my final offering to Bridgid, a good wish from a book of pagan British ballads, spells and rhymes:
Wisdom of serpent, be thine,
Wisdom of raven, be thine,
Wisdom of valiant eagle.

Voice of swan be thine,
Voice of honey be thine,
Voice of the son of the stars.

Bounty of sea be thine,
Bounty of land be thine,
Bounty of the father of heaven.
So may it be! Shalom.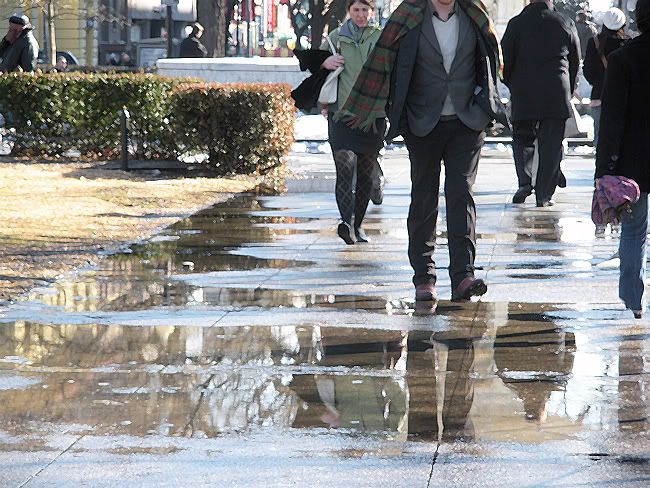 At Dupont Circle. It was warm-ish! People were smiling, flirting - so unusual for Washingtonians! Spring will come again!