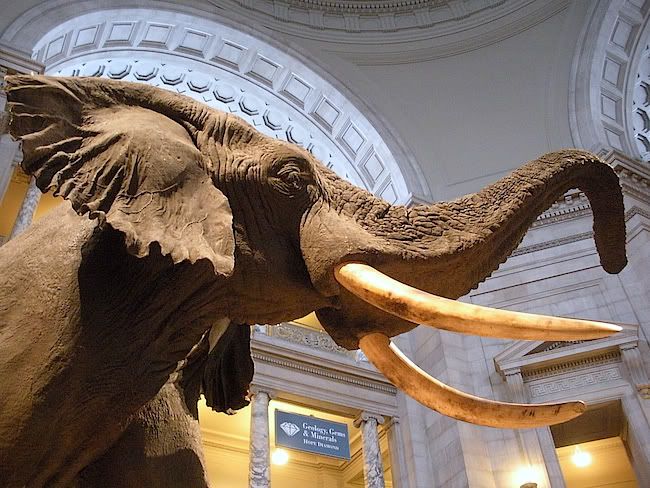 I was unable to find any still radar or satellite images of the massive storm that swept across the American midwest yesterday. These pics of the elephant in the rotunda of the American Museum of Natural History will have to suffice as metaphors of the mighty storm.
Anyone who knows me understands I believe with all my heart that the weather explains everything. Anytime there is a Big Weather Event I pay close attention, just in case there's some bit of wisdom or insight to be gained.
Yesterday, above the U.S., a huge gathering of atmospheric energy became more than a sum of its parts. The gathering organized itself, began to spin, then bore down on the midwest all day long, dumping snow, sleet, ice, rain and tornadoes, the furious offspring of great storms. This huge entity looked like it was centered on Missouri, the state where I grew up and in which there are many dear friends and family. Maybe that's why I couldn't take my eyes off the radar images all day long. The satellite pictures were incredible; it looked like a hurricane. The weather people said it was the largest winter storm since the 1950's. Whew!! Though only the edge of the storm grazed DC late last night in the form of a very cold rain, I believe I established a rapport nevertheless, through the radar images, and from reports coming in all day from friends across Missouri, in Oklahoma, Ohio and Illinois.
Yes I "got" something from the storm, though I'm not yet able to articulate its message. If I can think of how to express it, I will write more about it.
Meanwhile, it's Groundhog Day. There isn't any species of rodent in DC who saw its shadow this morning, no way. I suppose that's good news, yes? I guess.
My pledge to Bridgid this year is pretty simple:
I will be generous.
(Imagine the clang of a hammer on the anvil, to seal the pledge.)
So be it.
Today's offering, from the Book of Hours:
I live my life in widening circles
that reach out across the world.
I may not complete this last one
but I give myself to it.

I circle around God, around the primordial tower.
I've been circling for thousands of years
and I still don't know: am I a falcon,
a storm, or a great song?

--Rainer Maria Rilke