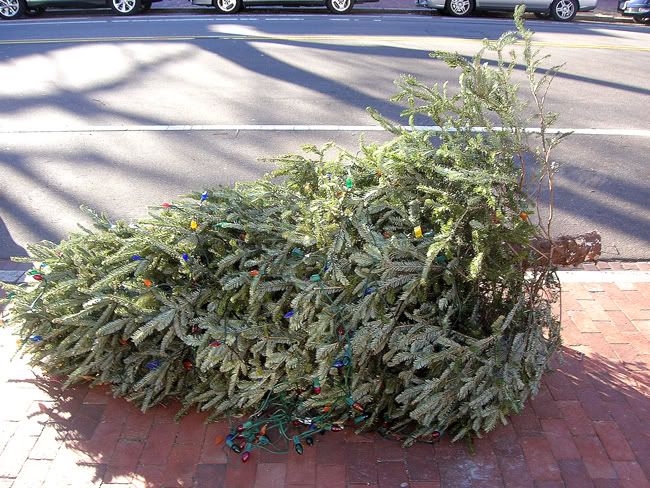 Next year these people won't be so quick to throw the Christmas lights out with the tree because it'll be a lot harder to find and buy cheap lights next year.
The experts and pundits have spoken! The official predictions for 2009 are out there in the papers and on TV. I find modern soothsaying so fascinating. These people speak as if they really know what's going to happen next. Isn't it funny? Or perhaps just optimistic, a classic American characteristic. If they can do it, I can do it. Why not? Though, one disclaimer: I don't have a CLUE what's really going to happen. I'm just guessing.
I predict a lot of chaos in the U.S. in 2009, especially in terms of our financial habits. I see the end of a lot of big retailers - department stores, as we used to call them - like Macy's, for example. The biggest and most heinous retailer, Walmart, will stand firm, enduring the chaotic year like the cockroach. Too bad about that!
I see less demand for all the stupid products we Americans find adorable, which means manufacturing companies that produce, for instance, battery operated pepper grinders, will go out of business. But do we really
need
battery operated pepper grinders? I say no. In fact, we never needed them or any of the other wasteful stupid things that are now crammed into our overstuffed closets.
Some businesses will do well. If there's someone out there devising a twelve step program for people addicted to shopping, they will make out like bandits in 2009. People are not going to have the money to shop till they drop, and too there will be fewer places to go on shopping binges.
I expect that all of us small scale alternative care healers, like myself and the Sufi acupuncturist, for instance, to be very busy in 2009. It's nerve wracking for citizens of fumbling empires. People will need healing. I also foresee doing a lot of shamanic business this year. I've already received two requests for shamanic interventions for January. Wow.
2009 is the year when Americans who have not already opened their eyes, will be forced to wake up and smell the coffee. My heart goes out to the folks who planned carefully and hoped to retire this year but now can't because of the financial crisis. I also feel for all the people who work in large retail stores and in other businesses that are based on profit but don't provide services or products that people actually need. Maybe all of those people will be able to get jobs revamping our electrical grid or rebuilding our infrastructure, projects our president elect is determined to invest in. I hope so.
Chaos attends the end of every empire. Ours is no different than any other throughout history. It's an interesting time to be alive.
My advice for 2009? Stand up straight and keep breathing. We can get through this, we can. And as
Merle Sneed
says, we'll all be the better for it.
Onwards and upwards! Indeed.