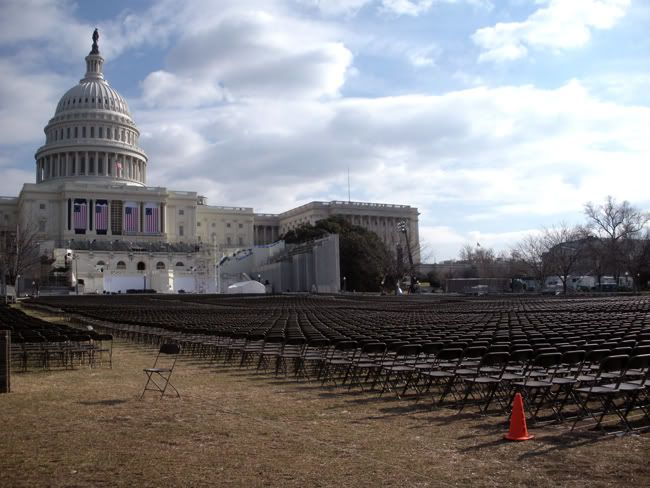 After days of dramatic roiling, suddenly yesterday the energy field surrounding the inauguration dropped. Or stopped. Or something. I couldn't locate it in the ether. Puzzled, I walked down to the Capitol to see what had happened.
Here on the Hill and at the Capitol, life was oddly calm yesterday, especially in terms of traffic, tourists, and outdoor activity. Though there were construction vehicles and platforms everywhere around the Capitol, I only saw one or two workers. Stranger still was the fact that there were virtually no tourists hanging around, always a weird thing in DC. Some chairs had been set up on the Capitol lawn, but elsewhere there were tall stacks of them, untouched, like standing stones scattered across the lawn.
Maybe all the hubbub about the inauguration was the peak of the energy; maybe it's going to be less of an event than predicted. Or maybe yesterday was like that moment in between breaths, that pause between inhale and exhale. Who knows? Interesting, though, no matter what it means.