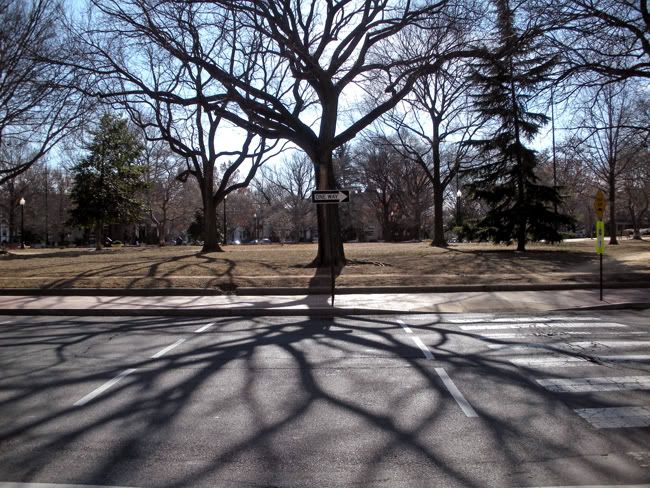 Sitting around the dinner table last night, my roommates and I got the giggles. This is very unusual for us, not that we never laugh. Oh my we are all clever and hilarious. But we don't usually get so tickled as to become silly. Except last night we did. The rising energy of the inauguration is utterly ebullient. Is that the right word?
We were keeping one eye on the pizza, one eye on MSNBC, watching the presidential train arrive at Union Station, and the crowd outside the media booth on the mall. The urge to go to both locations, just to jump around like all the other people, was almost irresistible, in spite of the cold. Union Station is a twenty minute walk from the house on Tennessee Ave. The Capitol is more like a ten minute walk. Eventually common sense got the better of us. Instead of walking down to the mall, we jumped around here in the nice warm house.
Besides the inauguration itself, the one activity I will not miss is
"Setting the Stage with Sage"
. A comic, a rabbi and a shaman are convening a group at Dupont Circle Monday night to burn sage with the intention of clearing the Bush legacy from the White House. What they may not know consciously is that Dupont Circle is the perfect location for this working, since it is one of the "feet" of the Masonic pyramid whose top is the White House. Instinctively they are aligning themselves with the masonic pattern of this city. Perfection!! I plan to arrive early, burn a lot of sage and dance around like a crazy person. I will be completely in my element. It starts at 6:00 p.m. C'mon down! For those who can't be there, be assured: there will be pictures.
Everything about this inauguration is absolutely perfect. No wonder I got the giggles last night. No wonder!
N. Carolina Ave. SE at Eighth Street, just east of Eastern Market.