Last night as I struggled to get to Dupont Circle for the the saging ritual, pushing my way through crowds around Union Station that made me feel more like I was in Calcutta than Washington DC, I suddenly understood how gravely I had underestimated what it was going to be like to have all these people in town.
OMG.
This morning, people began streaming down Tennessee Avenue on their way to the mall at about 6:00 a.m.. By the time I left the house, around 8:30, it was already too late. We tried, my roommates and I, but got stuck in a crowd so dense that all of us began to get a little bit panicky. So we backed off, thinking maybe a strategic shift to the other side of the Capitol might be a better approach. Not so much, it turned out.
There were a lot of people here today. Millions. Can you imagine? We tried for two hours to push our way onto the mall. It was amazing, humbling, and completely futile.
Finally we gave up, went into the Dubliner across from Union Station and had a drink. At 10:30 a.m. The bar was full of fellow celebrants who likewise could not get to the mall. The scene was cheerful and warm. It felt right to be surrounded by other inaugural celebrants, but not too many. Everyone was having a drink. At 10:30. Wow.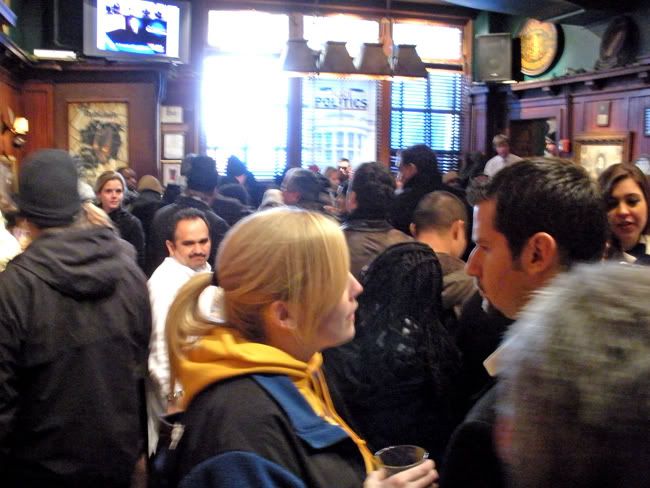 After that, we walked home. It was the reasonable decision. I guess we could have continued to bang our heads against the brick wall of that huge crowd, but for what? I didn't want to spend the day today feeling claustrophobic and miserable. I wanted to celebrate. On our walk home we ran into many fellow citizens of Capitol Hill, all of whom had surrendered to reality as well.
Hammer
was completely correct when he said today was the day to step aside and make room for the visitors to the city. But do I listen to him? Apparently not.
I'm not complaining. In fact, it was a relief to be at home again, to watch that amazing inaugural speech, that incredible truth telling and call to action, from the warmth and comfort of the house on Tennessee Avenue.
It was a serious speech. I'm glad I was sitting down when I heard it.
OK. The day unfolded differently than I expected. So? What else is new? The important thing is that Obama is our president. Thank God!