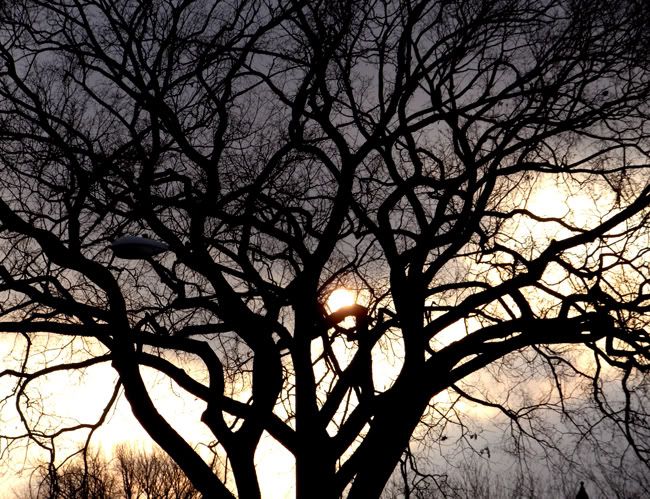 The trees have been talking to me lately, telling me in no uncertain terms that I'm Very Well Rooted and perhaps now would be a good time to extend, expand, reach out this way and that way in all directions so I'll be able to collect the sunlight that will soon be in abundance as spring arrives.
As an extreme introvert, the idea of networking, connecting with community, reaching outwards is kind of freaky, but I know that to ignore the advice of trees is always a bad idea. When I told them that extension is scary for me, they rustled slightly, as if exchanging a look. Then they told me they would be afraid
not
to extend their branches. No leaves, no sunlight, means death to a tree. They make a good point.
Today is Chinese New Year. Last night there was a solar eclipse in Aquarius. All the astrologers I admire say that under the influence of an eclipse, everything intensifies. An eclipse at Chinese New Year magnifies that effect. And if the eclipse is in your astrological sign - well - buckle your seatbelt.
Though I was kind of hoping for a few weeks of relative boredom after the big
wow
of the inauguration, secretly I'm thrilled that all signs point to changes ahead. Though my life for the last several years has been uncharacteristically stable, it has not been tremendously exciting. Last year I let go of a lot of old toxicity, making room for the new. The trees are saying that I must open my hands, (heart and mind, too) in order to actually receive the new. The Sun and Moon agree.
When the stars and planets coincide with the advice of trees, resistance is futile, no matter how scary it sounds. Time to stretch out, extend, connect. And collect sunlight as spring arrives. Oh yeah.