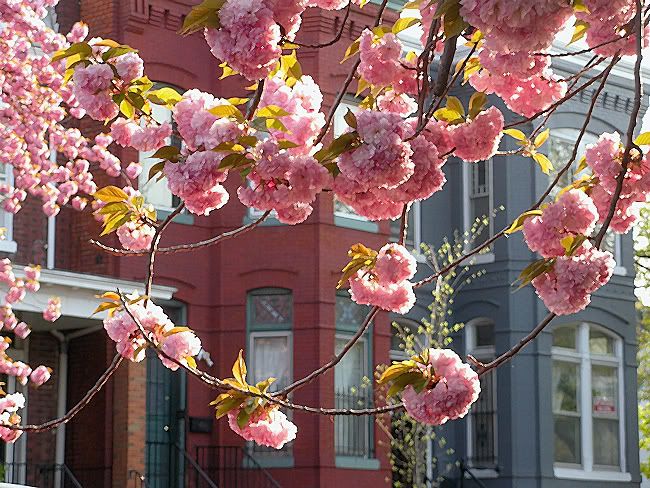 Springtime in DC has gone way over the top.
Though I am not at all observant, except in a philosophical way, the rhythms of Judaism pervade my being. I don't have to look at a calendar to know when the big holidays are ongoing; I feel the holidays in my bones, I really do. Most years the trip across the desert, i.e. the week of Passover, feels like a slog. I often feel very dry or easily overheated. Some years it's so hard to put one foot in front of the other, to cross the last dregs of winter.
This year, maybe because Passover is so late, I'm tripping through a fairyland desert of pouffy cherry blossoms overhead, iris and tulips at ground level, and birdsong all around. Lilacs and wysteria are fragrant and buzzing with bees. The air is soft and warm. The trees have popped; there is green dust everywhere.
People say that during the brief moments when the desert is in bloom, the landscape is magically transformed into a place of color and brightness. I'm feeling that, oh yeah.
This year my quest for the promised land includes dinner with someone I adore here at the chateau, an out of town guest, a birthday party, a very unusual Sunday off of work - and - last but never least: BRUNCH.
Brunch! I never go to brunch because I usually work on the weekends.
What a spectacular trek across the desert this year, eh? One thing I sense very powerfully is that the fairies are all around, helping make this year's Passover more of a par-tay than a schep. Hey sparkling bright cousins, you fairy folk? Rock this Passover, dudes! Oh yeah. And ... THANK YOU!