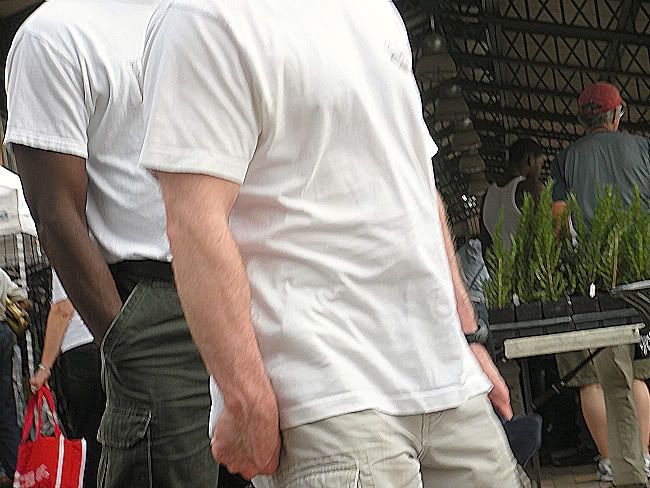 Took a bunch of pics while walking through Eastern Market yesterday.
We mean well, mostly. But what is it about our species that always makes us go too far?
A client came to her session in tears yesterday. Her daughter has just been diagnosed as "on the spectrum," some weird jargon for slightly autistic. This client loves her little girl so much. Of course she was freaked out. I worked with this client when she was pregnant so you could say I've known her daughter since before her birth. She's a little character, that's for sure.
In a way it's great that people are looking more deeply into what makes each of us who we are. But I really detest the pathologizing of humanity. The criteria for what is "normal" becomes narrower and narrower as every little quirk gets categorized as a symptom of some disorder or another.
My learning disorder (I self-diagnosed a few years ago) probably has an official name, though I don't know what it is. When confronted with lots of information, I become overwhelmed and can not distinguish one thing from another. For instance if my housemate puts the OJ in the fridge on the left side, when I'm used to finding it on the right side, I literally can not see it. I'll say, "Where's the OJ?" Immediately afterwards, I am humiliated when he points to the OJ, sometimes right in front of my face. The Sufi acupuncturist says that my "sorting" capacity is weak. That's a nice way to put it. I take in so much, but then I am overwhelmed by it all.
It would have been beneficial if, as a kid, these kinds of little problems had been noticed and addressed. The Reya Disorder accounts for a lot of my behaviors, like my aversion to places like Costco or Macy's. There's just too much going on in those places. I freeze when confronted with All That Stuff, then I turn tail and run away as fast as possible. It may even account for my alleged introversion, who knows? That said, I am SO GLAD I was not pathologized as a kid. I had enough going on without having to carry the burden of some label.
It's ironic, isn't it, that no one is normal anymore? We all have our little oddities, eh? Here at the beginning of the new millenium, we are all diagnosable. Is that sad? Or funny? Both? You tell me.