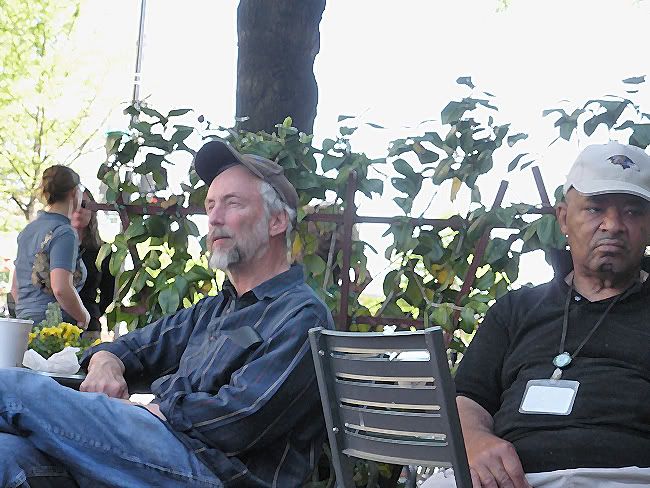 It was a gorgeous day in DC yesterday. Because my last client cancelled, I was able to take a nice walk in the afternoon. For about an hour I sat outside Peregrine Espresso, drinking iced coffee, watching the sky, listening to birds and snips of conversation, and looking at the other people there.
The guys in the above pic are both lost in their own thoughts. At first glance it seemed clear to me that the man on the left was thinking happy thoughts while the guy on the right did not share the same good mood. Their expressions never changed the whole time I was there, which made me eventually wonder whether their facial expressions were connected in any way to what was happening in their hearts. Maybe the guy on the left is so used to smiling that he looks that way even in the foulest of moods. The guy on the right might be happy as a clam, but in the habit of frowning. Who knows?
Even just a year ago, I was almost completely uninterested in digitally capturing human faces. All my photos were of trees, sky, animals, clouds, architecture. I didn't notice people so much, and certainly did not get interested in whether or not their facial expressions conveyed their moods. I wonder what it means that, since Jake died, I've become so much more interested in humanity? I've tried repeatedly to second guess myself about this, but so far I'm completely bewildered by the shift. What do you think?
I decided not to photograph the face of the woman studying the Principles of Evidence (portrait below). She looked so unhappy. If I was in law school, I bet I would be similarly vexed. Or maybe she's just used to looking unhappy, or perhaps needs a new pair of glasses. Who knows? Do you?