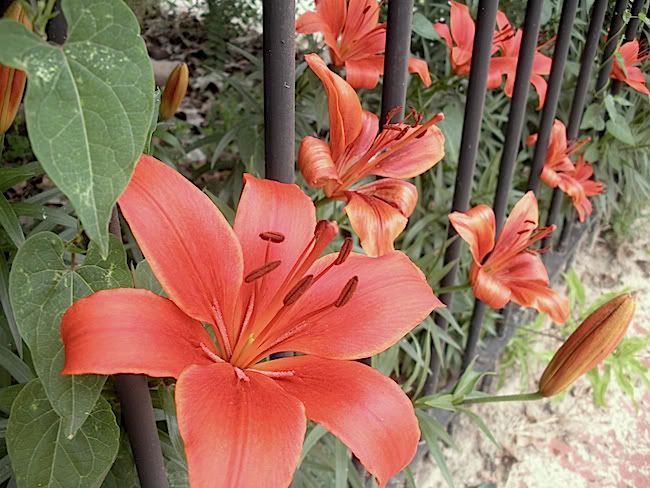 Tiger lilies already? Usually I associate these flowers with the 4th of July. But everything is early this year.
My hair is long these days. It's hippie length, it's extreme. It's "all over my head" as one friend would say, or as my sister Hannah says, "You've got some serious hair going on."
I should post a picture of it sometime before I get it cut. I don't think it has ever been so long or so wild. Yeah.
My theories about being in my fifties (in the past) revolved around shrinking, shriveling, wrinkling, and generally losing the fizz I associate with youth. I'll admit it: I can't party like I used to, not without serious consequences. OK. This is a Very Good Thing! And yeah, when I wake up I have to stretch and do yoga and stand under a hot shower before I can actually move with any kind of ease. Yes, it's true that gravity is definitely gaining a foothold over my body.
But this time in my life? It's my favorite era so far. I still have some
umph
and plenty of physical strength. I have just enough bravado to get me through the day, but not so much that I can't sleep well at night. My brain still works as well as any brain could at this age, maybe better than in the past. I have a
joie de vivre
I never had as a younger woman. It's a lightness of being in which I'm shocked and thrilled to realize: I'm no longer ashamed. I remember crazy adventures from my youth and think, "How cute!" or "Darn. Wasn't I full of myself?" or "My goodness those hormones-drugs-reckless ideas really got me into some interesting situations."
Even just a few years ago I would have been mortified to remember how boyfriends in my high school creative writing class and I were always feeling each other up when the teacher wasn't looking, or how I shop-lifted, or the vast quantities of marijuana I smoked, once upon a time. Looking back on it all now, I'm amused by my errors in judgment, for sloppy behavior, for coloring outside the lines so many times, for following my instincts instead of adhering to societal protocols. Why the hell not get a little carried away, eh?
They say that when you die, you will never regret what you did, but might very well regret what you didn't do. All I can say is, if I die tomorrow, I will feel quite proud of the places I've been, the things I've done, the people I've loved and the adventures I've had. Does it get better than that?
Allegedly this weekend is an astrologically difficult time. I can't remember the particulars, but it's supposed to be rather harrowing, or so my favorite astrologers say. But I'm feeling good ... smooth ... OK with who I am and what I've done. It's such a lovely feeling. May the smoothness linger! Please?