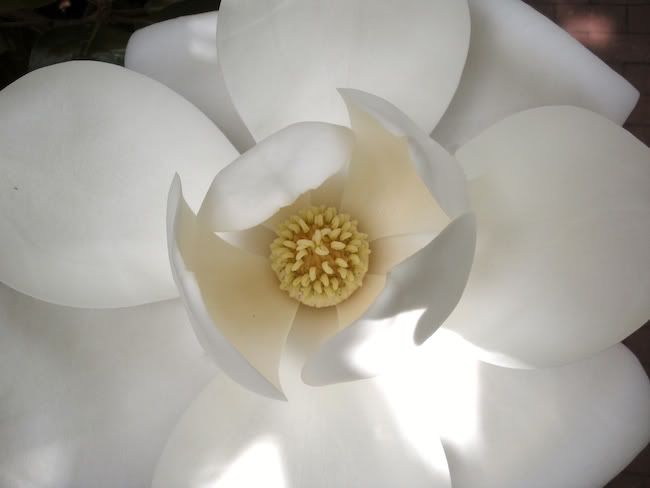 The magnolias are blooming. Unbelievably beautiful.
The last time I lived alone was more than twenty-five years ago. (Whoa.) I lived in a sweet little house tucked into a lush garden behind the California Historical Society at the very top of Laguna Street in Pacific Heights, a seriously posh neighborhood in San Francisco. The house was basically one large room with a tiny, cute kitchen and a rather lavish bathroom. There were windows on all four sides of the house. In front of the house was a large patio with funny neo-classical columns. Why? Never found out. The garden completely surrounded the house. Imagine
exotic ferns
, huge palm trees and other California-ish plants. You could barely see the building from the street. Every time I unlocked the gate and walked into the garden, I felt I had entered a magical realm.
I loved that place. When I saw the ad in the paper, I should have raced right over, but I waited a day. By the time I got around to seeing it, the person in charge of renting the house told me it had already been taken, but let me have a look at it anyway. I was so disappointed to lose out because I hadn't jumped on the opportunity. What was I thinking?
A couple of days later I got a call from the woman saying that the renter figured out her furniture wouldn't fit in the house. She said, "For some reason, yours is the only phone number we saved. So if you want the house, it's yours." It was, no doubt, a case of angelic intervention. Wow.
At the time, I was still fiercely bohemian. I didn't cook, decorate or really care in any way about domestic pursuits. The only thing you would have found in the fridge was beer and take-out Thai food. I had stacks of heavy books piled up on top of the refrigerator; it was small and cheap, and tended to jump around unless weighed down. If there had been food inside, it would not have been a problem. In the main space was my futon and piles of books. Maybe I had a lamp. The stereo of course. That was it.
As I get ready to embark on living alone again, I am kind of flabbergasted. It has been a LONG time since 24 Palms, as I called that house in San Francisco. I love to cook these days, and though still not completely domesticated, I do enjoy the ambience of good feng shui, the pleasures of comfortable upholstery. I'm about to find out what life is like on my own for the first time in a long time. I am so excited.
The people currently living in my new apartment are having trouble working through the details (jumping through hoops, actually) required to buy their new apartment, so my move has been delayed. Somehow it seems fitting and proper that there is a temporary setback. That's how it works for me, or so it seems. It's OK, it is SO OK. I don't mind taking time to wrap my mind around this big change. Oh yeah.