As a shaman, when I'm bewildered or overwhelmed, as I was this morning after being drenched in vivid dreams last night, I have to get out of the hermetically sealed cube I call home, out into the world. I have to look at the sky, listen to the birds, watch for augers. I believe that what people call the "natural world"** contains everything I need to help process and (maybe) eventually understand whatever it is that I'm confused about. There are clues everywhere, believe me. All I have to do is pay attention.
Sure enough, the frilly angel wing clouds, the robins singing their tiny asses off (they are so LOUD), the green/gold light of early summer in the early morning, and the slightest, sweetest breeze, neither hot nor cold, helped me gather my wits about me. Thank god for this beautiful city. Wow.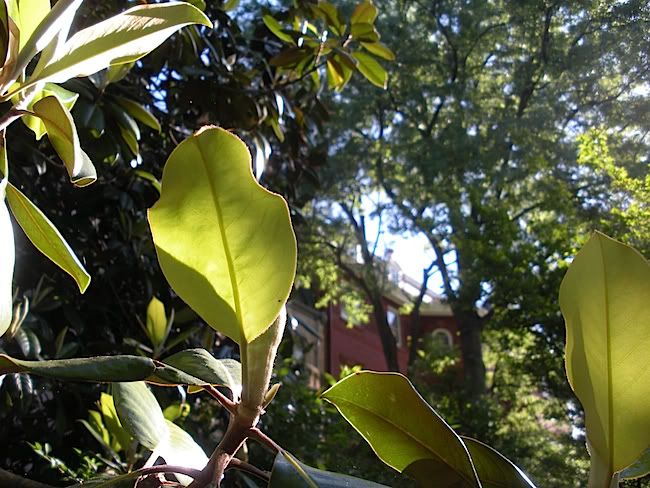 Love is a monumental power, a force of nature, I think. The image of Cupid and his arrow is so apt, for me at least. It describes the unpredictable nature in which love flows through the heart.
Right now I am feeling love for someone I don't even know, a friend of a good friend, who has just endured surgery for cancer. I've been sending this friend of a friend a steady stream of Reiki, and holding her in my mind and heart, "seeing" her well and whole and happy. I'm doing this more for my good friend because she is in such distress over her friend's condition, she doesn't have the wherewithall to keep the faith. Keeping the faith for this person I've never met has opened my heart in a profound way. I am blown away by the experience.
The above is not the only kind of love flowing through my heart at the moment. It's kind of a lot to deal with! Hence the walk this morning, with angels passing by overhead and rivers of clouds under foot.
A friend is absolutely correct when he says love is scary. I've been teasing him about this but I'm going to stop straightaway. It is scary because it is so powerful, and so beyond our control. As usual, all I can say is: wow.
**What part of the world is unnatural, eh? We build houses, but so do bees, beavers, groundhogs, wasps and many other animals. We don't call their houses unnatural, but we think of what we build as ... what? ... otherworldly??