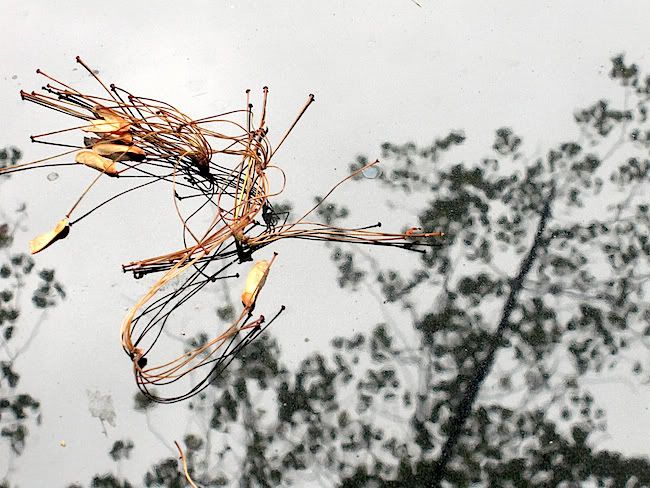 I don't often quote the Bible, oh no. But today this is a perfect intro:
From Psalm 8:6 -
"You made him ruler over the works of your hands; you put everything under his feet."
Once upon a time it was quite fashionable to think of humans as the rulers of the earth. We were given the power, by God, to "control" nature. What a legacy to pass through generations of Jews, Christians - (and Muslims? Are there psalms in the Koran?) What a burden! What an impossibility.
After thousands of years of alleged dominion, suddenly during the 1960's and 1970's, environmentalism upset the biblical paradigm. Swamps became wetlands, jungles became rain forests, and suddenly human beings, instead of being rulers of the world via manifest destiny, became evil tyrants whose greed and thoughtlessness would eventually ruin the biosystems of our beautiful planet. All at once (or so it seems in retrospect) the prevailing thought form became all about
living in harmony with nature.
But you know, it isn't possible for our species to live "in harmony" with tornadoes, hurricanes, volcanic ash, earthquakes and Mama Gaia's other broad strokes. Mama Gaia is a big ole planet while we are a rather sturdy and clever species, but still small and short-lived by comparison.
It's no wonder that we, once upon a time at least, thought of God as a sociopath. When a tornado rips through the landscape, destroying everything, or a hurricane or earthquake levels all our structures, kills our beloveds, I can see how it would seem like divine punishment. I can see why we sacrificed animals, tried to appease this terrible God. We still use the language of the sociopathic God, i.e. "raging storm," "angry sky," "brutal wind," etc.
It's also no wonder that, once upon a time, we hoped to "control" the intensity of these events. I always say, when someone is maligning our species, that we didn't set out to control nature because of butterflies or soft spring breezes. Nope. It was the reality of natural disasters, disease, starvation, thirst, creepy bugs and snakes and such, that inspired us to at least try to put a damper on the unpredictabilities of our world. Partly survival instinct, partly empathy at work there - we hated to see the suffering that was the result of the natural course of things.
Of course that was foolish, grandiose, to imagine that we could become lords of the earth. I think in the 1960's we finally just gave up. Now, humiliated and disgraced by our pathetic efforts, we prefer self-loathing to the idea of admitting we just aren't big enough, smart enough or powerful enough to put a dent in the workings of this powerful, intense planet.
OK. I'm going on and on. I'll stop now. Reading about the Ruskin tornado, taking in my friends' stories about that terrible night, I'm thinking that in many ways our lives are defined by these unimaginable events. We get over it, mostly, well some of us do. But one of my friends who wrote about the tornado said that bringing back the memories had her in tears all day, even though the tornado ripped through Ruskin Heights in 1957. Still it gets to her. Wow.
I bow low before your omnipotence, Mama Gaia. With love and respect, oh yeah.