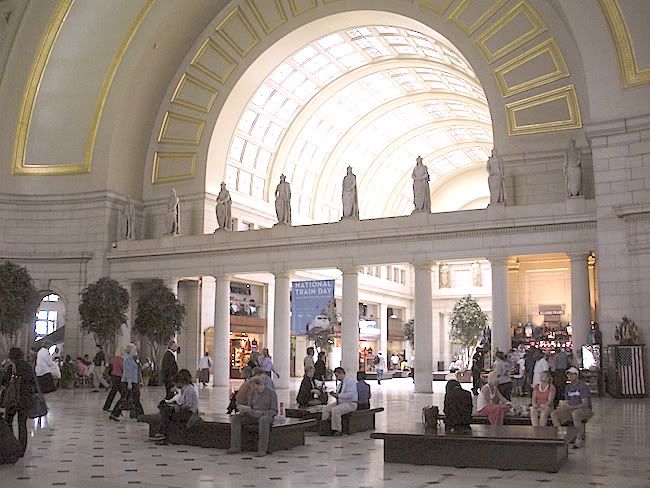 Union Station. I love this place, the setting of a recent, vivid dream.
According to the cosmology of Reya, one of the reasons the citizens of my society buy so much junk is because many people feel, at a soul level, completely impoverished. We are rational, sensible, we live in the "real" world, i.e. a mundane reality in which anything that has not been rationally explained is instantly dismissed. It is a life of spiritual impoverishment to reject mystery so absolutely.
When I mentioned Mercury retrograde to someone yesterday, she rolled her eyes. She wasn't being mean or consciously insulting me, no way, but she was inferring that I'm a nut for following the movement of the planets even though people from the North Pole to the South Pole, throughout the entire history of humankind, have taken meaning from the sky just the way I do.
I get that kind of reaction all the time here in Washington DC, though I'm told that in Taos, for instance, I would be among like-minded folks, which begs the question,
Why am I here??
The world I live in is so interesting, multi-dimensional, colorful and textural - especially compared to the stripped down world of mundane reality. My theory is that rational folks have intense cravings for spiritual/mystical/psychic richness just like I do. The problem is that their world view does not allow for inner richness which is why they can be convinced that a new car or success in academia (see Rebecca Clayton's comment) or political triumph or yet another pair of shoes will somehow satisfy their spiritual hunger. For others, this paradigm does not fit (see NanU's comments).
Whatever.
Living in a complicated multiverse such as I do, within the cosmos of A Very Rational Society, presents me with certain problems. There are so many more boundary issues I have to deal with than most folks. For instance, a few years ago I learned how to not be so codependent with the Dead - a healthy boundary that most of the people I interact with would never take time to consider. Why would they? They don't believe in ghosts, ancestral spirits or disembodied beings of any kind.
It's an interesting dilemma I would never trade for a new car, believe me. Some days it gives me pause for thought, however. Wouldn't life be simpler if I believed, in my heart of hearts, that what I really yearn for is a pair of Christian Louboutin shoes? A life like that would depend mostly on making money, something I've never much been interested in (or good at). But if I thought Manolo Blahnik was the answer to my deepest desires, I bet I could figure out how to get my hands on a pair or two.
I'm a mystic, but a skeptical mystic, and some days I wonder.
News flash: After posting this, I went to see the Sufi acupuncturist who, after careful observation and deep listening, placed 6 needles at various places on my body. He also offered some sage words about the life of spirit - he always does. After my treatment, the
Poor Little Me
mood of self pity was completely dissolved. All hail Chinese medicine! Oh yeah.