One of my favorite reflection pics ever. This is the old post office building, reflected in a puddle on the sidewalk.
I'm happy. Or maybe what I should say is, I feel like myself for the first time in a few weeks. I wonder what that means, feeling like myself? How can I
not
feel like myself? Somehow I can, and have, in the weeks preceeding the day I moved my practice here to the chateau, and the days since. My teachers of shamanism would say when I don't feel like myself that means one of my three souls has travelled to the upper or lower worlds, looking for help or maybe just vamoosing until my unpleasant mood passes. I can't blame this soul - I know I haven't been a lot of fun lately, all worried and such. According to Chinese medicine, the spirit or shen resides in the heart. If the heart beat is not steady, the shen sometimes goes to reside in another organ - I think this is a different way to explain the same phenomena.
Yesterday I took a break from worrying. A friend and I took a long walk, checked out the Peacock Room at the Freer Gallery, had a quick lunch. I thought the Peacock Room would be the big highlight of the day - that space is SO bizarre - and though we got a kick out of it, I think the walk itself was far more enjoyable. We shared stories, stopped to take pictures, ducked inside the National Gallery when the sun came out and it was too hot.
What a perfect day. At the end of the day, I felt whole again. So maybe my soul returned. Welcome home!
Today I will see several clients in the cool, cozy, smooth energy of the Chateau Seven massage therapy studio, after which perhaps I will decide again not to worry. Why not, hey? I say hey.
Happy Sunday, y'all.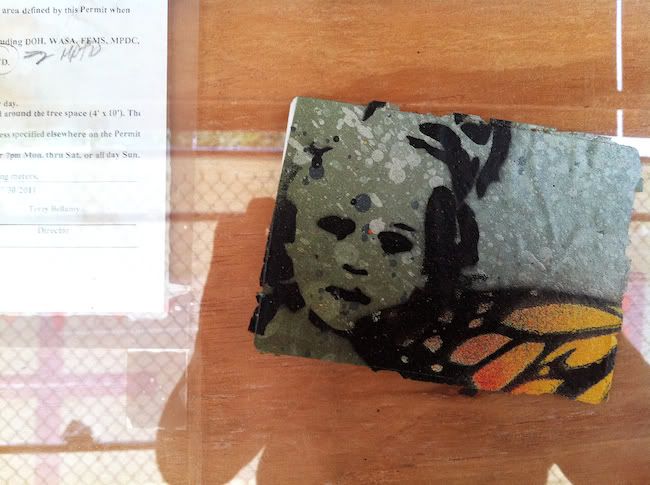 Street art. Thought of Steve in London as I took this.