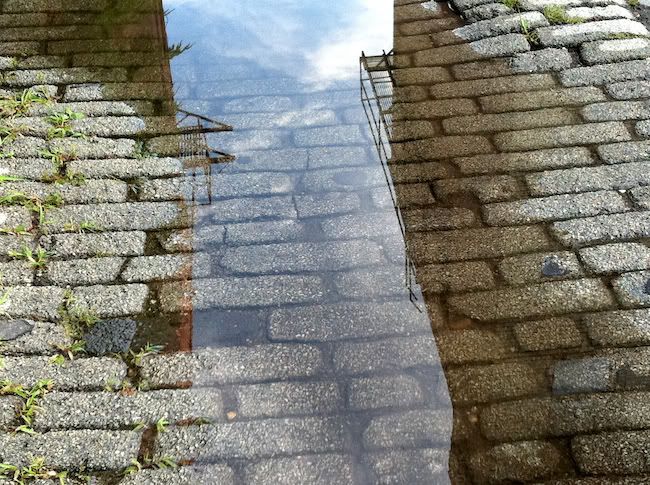 Does it really say "An eye for an eye, a tooth for a tooth," in the bible? I don't know - people blame a lot of things on the bible. No matter where it came from, that idea has never worked well. Violence begets violence, hate begets hate. How about putting energy into healing those who lose an eye, work out some kind of agreement with whoever poked it out, to do public service or some other task, to make up for the crime? How about teaching the poker how NOT to poke? Well? Poking out the poker's eye is just revenge. It's not about justice.
In the name of the bible or honor or a bunch of other crap, we human beings have done many a terrible thing. It's mind boggling. Going to a worst-case scenario, the holocaust, the only way I can wrap my mind around it is to imagine that everyone - including the regular folks, the Jews, not just the SS - EVERYONE was psychotic. How could you not be, I mean really?
Denial is a major factor in the doing of heinous deeds, always has been. Sometimes denial spreads throughout a culture at which time it becomes a big problem. Culture-wide psychosis never brings happy times, oh yeah. It's OK to keep slaves, kill the Indians, put kids to work in the factories, it's OK. Oh man it is so NOT ok. People: the emperor has no clothes!
But that's not what I want to write about. I want to write about animal rescue, how widespread it is, how people are taking all kinds of terribly sick, injured and/or disturbed animals into their homes to care for them, to try and help them live a halfway decent life. I didn't welcome Jake into my life to take care of him, I had no intention of partnering with a special needs dog. However, through fate or destiny or coincidence, I inadvertently took on the work of animal rescue for fourteen years. It was a labor of love, but it was a labor!
What occurred to me recently is that animal rescue is redemptive. Animal rescue is our way of doing what Tibetan monks do every day: pray for peace, put their prayer flags out into the wind, make their mandalas. I tend to hold Buddhists to a higher standard, so it's nice to realize we non Buddhists, too, are good people, doing good things to counteract the deep debt we have incurred as an overly-successful, overly-clever species. The dogs, cats, birds and other animals are lucky, but we're lucky, too. They are helping us learn to be kind. I am so grateful.