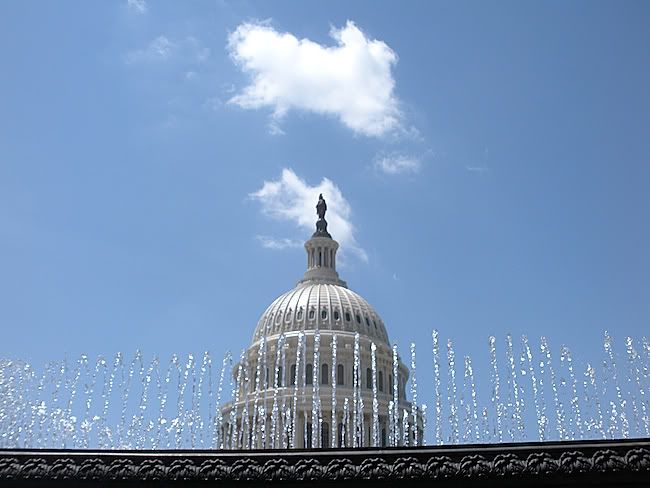 Do you believe in magic? I do. Maybe a better way to describe it is to say I believe in mystery, that there are things going on all around me, within my mind, heart, body and spirit that I will never - not EVER - be able to explain rationally. Though sometimes I find that truth a little (or a lot) scary, though many times I wish I could CONTROL all these uncontrollable mysteries, to be honest I have to admit that I love the mysterious synchronicities and juxtapositions, all the completely surprising events that are part of every life lived here on earth. If the world were not mysterious, wouldn't that be boring?
The magic I'm thinking about this morning is the mysterious synchronicity of writing about blogging (and other communities), waxing rhapsodic about the power of human connections through the network, as I did on Thursday. Within a few hours after I posted, blogger completely shut down. The post disappeared for awhile and, too, no one could post yesterday morning. The result of blogger's temporary collapse is that I was shown in no uncertain terms how it is not only the community of bloggers that's so dear to me, but the soul of the blogosphere that I like to rub shoulders with every day. By 'the soul of the blogosphere,' I mean the overarching energy and personality of this so-called virtual realm. Oversouls "hold" groups and communities in the same way that Brother Sun "holds" the solar system within his atmosphere. Oversouls are the ground substance, the matrix within which communities and groups operate. I was able to connect with many blog friends on FB yesterday, thank goodness, but I really missed Brother Blogger, the entity through which we communicate.
It's always a good idea to take a break from everything, even the good stuff. It was interesting to notice, during the day, how apt I was to write LOOOOOOOONNNNNNNG emails to friends.
Julia Cameron is correct
when she says that once you get in the flow of writing, it comes much more easily. I see that because I write almost every day, it has become rather hard to
not
write, even for one day. That was a great lesson.
I'm so glad I don't work for blogger. Can you imagine the atmosphere at the office yesterday? The stress must have been awful. It's rather incredible to think about how reliable blogger is, actually. Wow.
It was an interesting experience, but I'm glad the problem was resolved. I'm happy to be posting again today. I'll be happy to check in with my blog fellows as well, see what they have to say. Yeah. Shabbat shalom, y'all. Happy Saturday.