I am very superstitious, oh yeah. Once upon a time I tried to hide that truth. Then for awhile I attempted to pump it up, make it sound important or relevant, or like my superstitiousness was in some way part of my psychic powers. For heaven's sake. These days I try to accept it, no more, no less either.
There are just three major arcana trumps I haven't yet talked about on the sidebar. I put off writing about these three because they are not images or energies I enjoy wrestling with. I will write today about Death and the Devil here in a post while leaving the gracious and powerful Temperance on the sidebar. If you want to see the images that go along with these cards, google death+tarot or devil+tarot and click on images. I have no need to post those images here.
I guess I could skip writing about Death, eh? Birth and Death are THE two mysteries, yes? Oh yeah. What could I possibly say about Death that hasn't been written about extensively (and far more eloquently)?
Within the tarot, naming the deep truths about Death (also the Devil) is avoided at all costs. Every book I've read about the tarot states straightaway that the Death card does NOT refer to Death. Huh? Me thinks the Emperor has no clothes! The Death trump is about transformation, or so say the people who write books about tarot. Terms like "dramatic change" appear often in describing the card. Euphemisms, yes? I say yes. I've even read that Death points towards intense sexual encounters. Imagine me with a look of incredulity on my face, shaking my head back and forth slowly. I don't know about you, but intense sex makes me feel ALIVE, not dead. I don't get it.
Death is the end, the mysterious end that no one can explain. It kind of bugs me that within the world of tarot, we can't call a spade a spade. Maybe the people who write the books are even more superstitious than I am. Who knows?
'Nuff said on that one! On to the Devil trump. This is another card that people who write about tarot are reluctant to face head on. In many decks, the Devil is portrayed as Pan, a randy, sexual, goat-like dude frolicking in the forest. Poor Pan - why oh why do we think of him as the Devil? He didn't do anything wrong.
Another approach tarot writers and designers take is to say the Devil is not real. It's interesting because the energies of the other trumps are never discounted (except for the Death card, that is). It is true that, if you've made a deal with the Devil, that contract can always be broken. Waking up and refusing to take a destructive path, or shaking loose from the prison you believe yourself to be trapped within, is what the Tower card is all about. (The Tower card follows the Devil in the sequence of the major arcana.) But the Devil is REAL. What I mean is, the tendency to think, "I can't," the energy that surrounds feeling trapped, stuck or the belief that anyone or anything has real power over you - that is very real. The Devil card points to the reality of all kinds of delusions, especially the painful ones like paranoia, fear, jealousy, bitterness and such. The Devil governs addictions and obsessions, arrogance, all feelings of disconnection and helplessness, and all the awful ways we humans act out these miserable states of being. Tell me that isn't real! C'mon.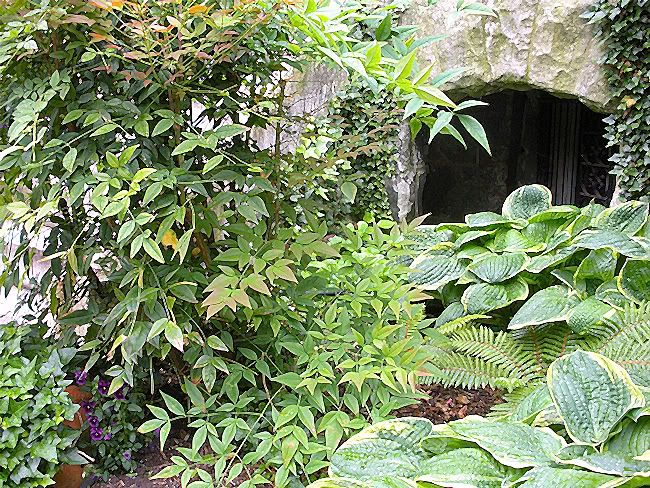 Inbetween Death that is not death, and the Devil who is not real (or so they say) is the beautiful, competent, focused, gentle Temperance. Sometimes I think she's placed between the rock and the hard place to help us settle down when we get all activated over the two energies that must not be acknowledged. Temperance whispers, "There, there! It's OK. You'll be ok. Here - have a sip of my medicinal brew."
Now you see why I love Temperance so much? I mean really, what's NOT to love?
Tomorrow I'll write on the sidebar about Judgment after which I'm done with the major arcana. It has been a very fun project. Thanks, y'all, for listening/reading.