My first great astrology teacher used to say that the more an astrologer knows about the sky, the better she will understand herself. Likewise, the more an astrologer knows about her motivations and values, the better she will understand the sky. As above, so below. True, dat.
Externally many of us are in the midst of reinventing ourselves: having kids, changing jobs, moving house, altering our plans, hopes and fears accordingly. Parents are dying, relationships are changing. Many societies and cultures are likewise re-inventing, evolving, shifting. Everything is in flux! Or so it seems to me.
In order to shamanically align myself with the energy at hand, I've been dancing. Oh man, I have been dancing my ass off. I'm listening to music at night, dancing, dancing around the chateau. I'm dancing as I walk down the street. I think I'm even dancing as I dream, based on how, when I wake up, I notice the sheets and blankets are all untucked and bunched up (I am usually a very peaceful sleeper). These days when I see an incredible cloud formation, like the one in the pic above, I stop right where I am and do my shamanic dance of alignment.
You should have seen my friends and neighbors laughing at me yesterday afternoon when I stopped to dance in alignment with the shining path I saw stretched out before me (see pic below). Though I invited them to join me, they all politely refused. Oh well. I'm glad to amuse others, really I am.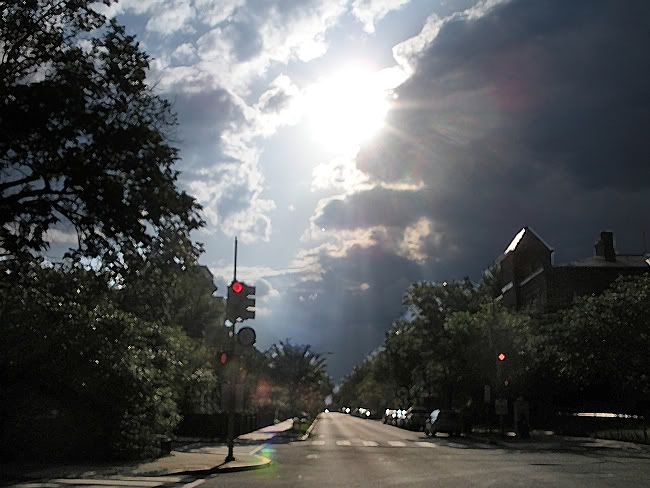 Constitution Avenue, facing west from Tennessee Avenue.