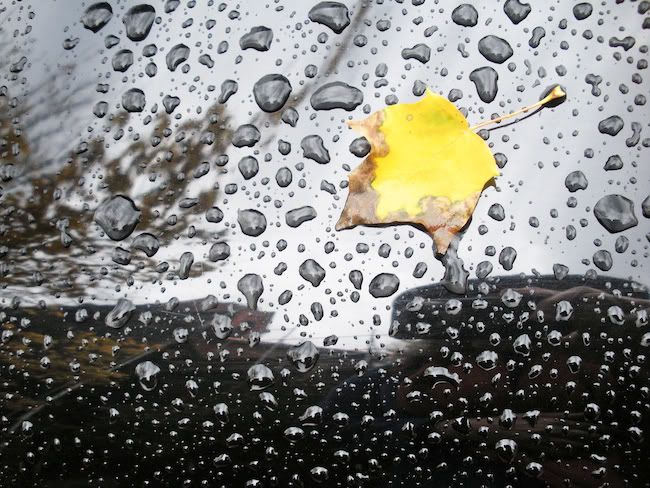 Yesterday's rain was very photogenic.
I say that I like to think, but the truth is: I feel. I take in facts, read books, articles, etc. but what follows is hardly analytical. Nope. I drop into my heart, into my body, and
feel.
I'll admit it: my mind is so inept that I often say things like "My brain was the last to know ..." So true!!
Oh yeah.
Loyalty feels heart-based to me (and to some of the people who commented on yesterday's post - excellent comments!) while commitment seems head-based. Loyalty arises from the heart, making itself known after it has already established itself, or so it seems to me. Loyalty creates energetic connections. Commitment is a decision, and manifests in the "real" world through contracts, agreements, hand-shakes, signatures. I loved
what Dan said,
that proximity also plays a part in the distinction between loyalty and commitment. That feels absolutely true.
There's a
forever
quality attached to both of those ideas that feels both noble and confining to a free spirit such as myself. The
forever
part is, strictly speaking, untrue, since nothing is forever, absolutely nothing. What I'm thinking about this morning is that the authenticity of loyalty is what makes it a noble quality. As for commitment, how true are we to our commitments? Rather than a timeline attached to commitments and loyalties, doesn't it make more sense to periodically check out whether or not our loyalties and commitments are working for ourselves and others? Are they serving their intended purpose, or are they empty promises? Because really how noble is an empty promise, even if it lasts into perpetuity?
In the spirit of embracing holy compost and sacred rot, what I'm wondering today is how to figure out when a particular loyalty has passed its expiration date. The king to whom you've sworn loyalty passes away. So - does that mean you must swear loyalty to the new king or are you free to go your own way afterwards? These are exactly the kinds of questions that philosophers - people who really CAN think - have been wondering about for hundreds of years.
Perhaps I'll leave it to the philosophers for today at least. It's an unusually warm, very windy, sunny day in Washington. I'm going to get out there, let Brother Wind blow through my hair, heart, and soul, loosening my connections to outdated loyalties and commitments that no longer serve anyone or any purpose.
Onwards and upwards! Shalom, y'all. Yeah.