I cried over beautiful things knowing no beautiful thing lasts. --Carl Sandburg
The exquisite slow-motion fall of the midatlantic has passed its peak. There's still lots of autumn color out there to be sure, but upon careful examination I can say with confidence that the point of greatest color is over. Tonight it's supposed to get down in the 30s, almost down to freezing, which means the last of the mosquitoes will finally be gone for the season.
We had a beautiful summer I could not in any way enjoy because of Jake's death, and a beautiful fall I have been almost afraid to appreciate (for fear it would bring back the sadness and grief of last summer). But the wheel of the year is turning, whether or not I take notice, so this week, I opened my eyes and ears, took my time, connected with the weather and the season.
Twice this week I walked like I used to with Jake, strolls that included frequent stops, a lot of sky gazing, tree gazing, street gazing. It was really great. All that looking around, listening, and sniffing the air helped me relocate myself in space/time. Does that make any sense? I even dared to look at the world of reflections a bit, reminding myself that Jake would not appear in any of the reflections.
It was OK. More than OK, actually. I am healing - at my own pace - but it is happening. Life is good and I am grateful. Onwards & upwards to winter.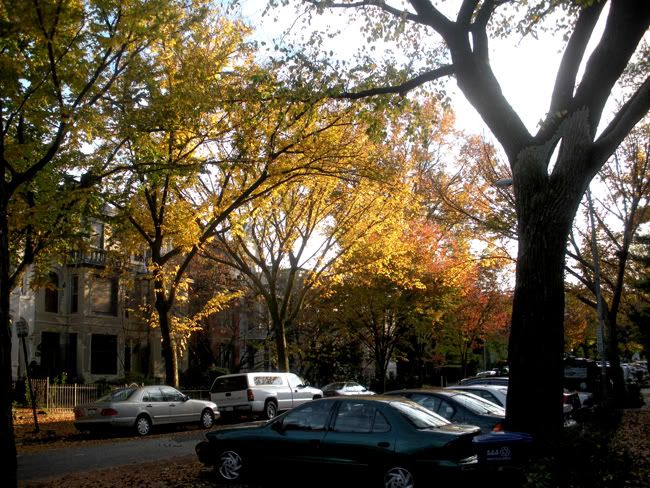 Tennessee Avenue in late afternoon which, at this time of year is about 3:30 p.m.