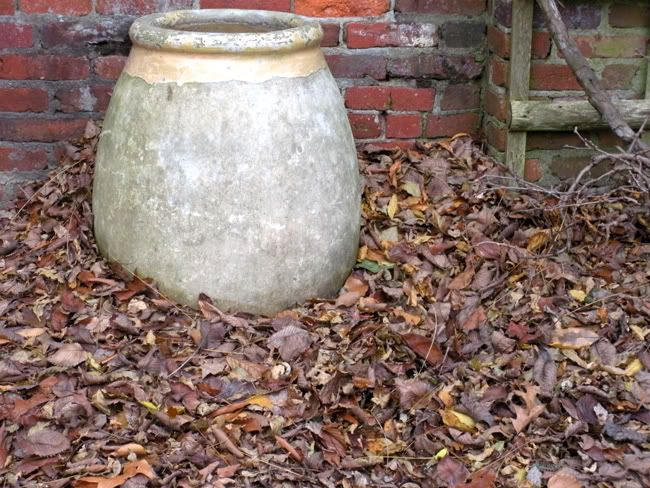 Big ole pot is part of the garden at Dumbarton Oaks. Tut calls it a "grudge pot." Love that!
When I all of a sudden left the community and practice of witchcraft, at first I was in shock. Similar to the experience of many people who leave cult-like groups, my departure was like a cold drink tossed in the face. It was like waking up. After many years I could suddenly see clearly what I'd been involved with. I was ashamed and frankly horrified to think about my behavior, stunned to realize what I had been practicing. Yikes!
My colleagues and teachers called me "Little Missy" when I first became involved with Reclaiming because I was so mild mannered, and wore such lovely rose-colored glasses. In fact one of my initiators challenged me to read the (great) book,
Getting in Touch with Your Inner Bitch
with cartoons by Nicole Hollander. The book is hilarious, especially if not taken literally.
I took on that challenge with a passion. My inner bitch became empowered and then ran rampant over the Little Missy part of me. Actually my inner bitch ran rampant over every part of me. I was not nice.
After I got out, gradually I came to realize how badly I had behaved. It was then that I started apologizing to pretty much everyone I could think of. I made phone calls, wrote cards, sent emails. Lots of calls, cards and emails, LOTS. The process was healing as well as grounding. Just the fact that I could sincerely and honestly say I was sorry helped bring me back to myself.
Some of the recipients forgave me, others never responded, which was fine. Apologies that arise from sincere regret are liberating, no matter how they are received. Apologies that arise from a sense of guilt or from a sense of "should" or because they are expected, tend to bind the two people involved and are not healing, at least that's my experience.
I'm thinking about this today because I'm about to write another card of apology to someone whose feelings I hurt very deeply. I would have done it sooner, but I didn't have her address. I'm looking forward to sitting down with pen and card. I've had a lot of practice apologizing so maybe that's why I enjoy the process so much.
Good deeds strengthen the soul. I can still be bitchy (like when I snapped at one of THEM a few weeks ago) but mostly these days I aim for kindness, sometimes hitting and sometimes missing. It's a much nicer way to live, it really is. Have a wonderful Tuesday!