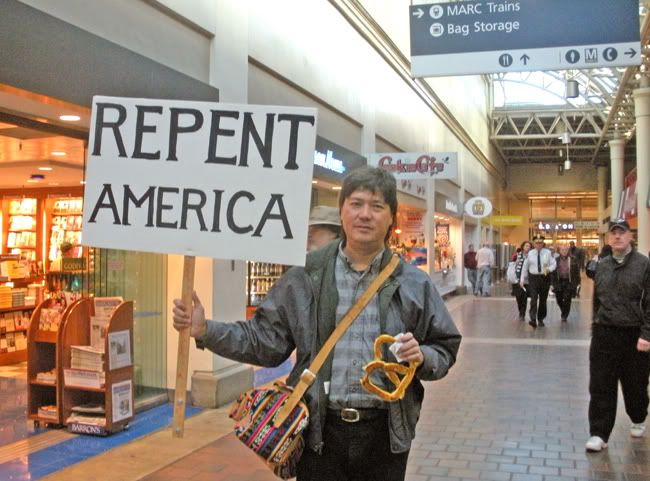 On my way to Rodman's yesterday, I happened across a group of "THEM" at Union Station - the people from another reality, those who still miss George W. Bush's administration, folks who come to DC to protest all things Democratic. The crowd I saw yesterday was intent on protesting health care reform. These are people who somehow believe that enriching insurance companies while allowing millions of people to be left out in the cold when they're sick, is a good idea. I honestly try to be very tolerant of diverse opinion, really I do! But with these people I have nothing in common. Absolutely nothing. When I see them, I get so angry.
The pic above features one of the group of THEM. I was hoping to publish an image of another person who was carrying a sign that said, "I'm already sick of Obamacare." But I was so angry that the image came out all blurry. In a fit of intolerance, I snapped at her after taking the photo. I said, "You know, you really ARE sick!" Immediately afterwards I asked myself if that was necessary. I guess it was!
I've never understood why people like Trader Joe's so much. For my money,
Rodman's
is a lot more fun. When I go into Rodman's, like some burned out stoner I wander the aisles completely transfixed by all the cool, weird, unusual jars and boxes of food thingies from all over the world. They call it "gourmet" but I think it's more of a collection of oddities. It's such a fun place. A visit to Rodman's serves as an excellent tonic for the bitter taste THEY leave in my mouth.
Later in the afternoon, a rainbow appeared, along with some of the strangest, most ethereal light I've ever seen. It was so beautiful that it completely cleared the energy of THEM from my energy field.
It's a shame to be so hostile, isn't it? I try to be tolerant of all opinions, I really do. Sometimes, though, I can't find the high road, no matter how much I want to. Thank God for Rodman's and for the unexpected beauty of a late afternoon rainbow. I really mean it: Thanks God!