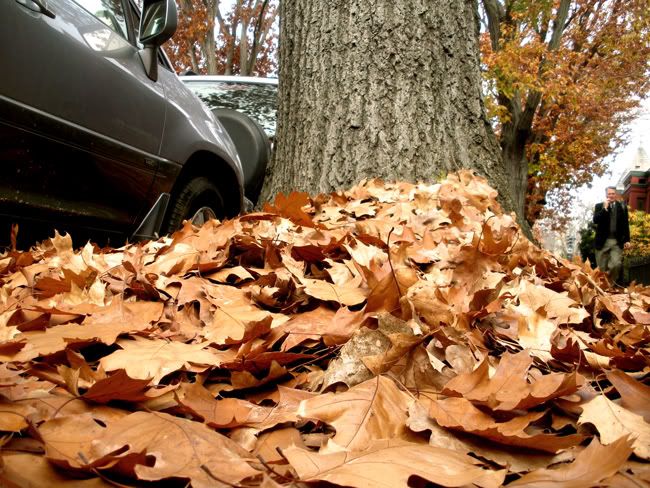 In years past, the way I celebrated Thanksgiving was quietly, at home alone. It was an anti-celebration, actually. My tradition was to make brown rice and veggies, and watch Hugh Grant movies all day long.
This year I have been liberated from my solitary T-day festivities because my roommate's family will all be here. They are a lively group, oh yeah! I could have hunkered down in my room or worked or volunteered for the day at National Geographic, but instead, surprisingly, I decided to join in and take part. I'm even doing a minimal amount of cooking (a simple and very very very buttery "stuffing" and an apple/pear crisp).
The jury is still out on whether or not I'll be able to eat turkey. It has never agreed with my digestive system, even when I was a kid. Magnifying my turkey phobia were the years I worked for Whole Foods, when I spent the last three days before Thanksgiving either in a refrigerated truck, slinging turkeys to runners who delivered them to the people who had ordered them, or dealing face-to-face with exhausted, cranky and occasionally abusive customers. Last minute grocery shopping does not bring out the best in people, believe me. In fact, during my years at Whole Foods, I learned how to say
Kill them all
in seven languages so that I could, at any moment, turn to the person working next to me and say
"Kill. Them. All."
in their native language. Delivering these words never failed to improve the mood, not of the customers but certainly for those of us working.
The sharp, distinct memory of all those raw turkeys has faded over time, thank God. This year what I'm afraid I'll be thinking about, when the turkey comes out of the oven, is that video of Sarah Palin with the guy behind her beheading the turkey in the "processing" machine, its legs wiggling as it is murdered. Yikes. If that comes into my mind I might steer around the turkey, have a second serving of green bean casserole instead. Wouldn't you?
Don't know how much time I'll have tomorrow, so in case I don't get around to the blog world, may I wish all those who celebrate it a great Thanksgiving? And to all the rest of you, have a wonderful Thursday!