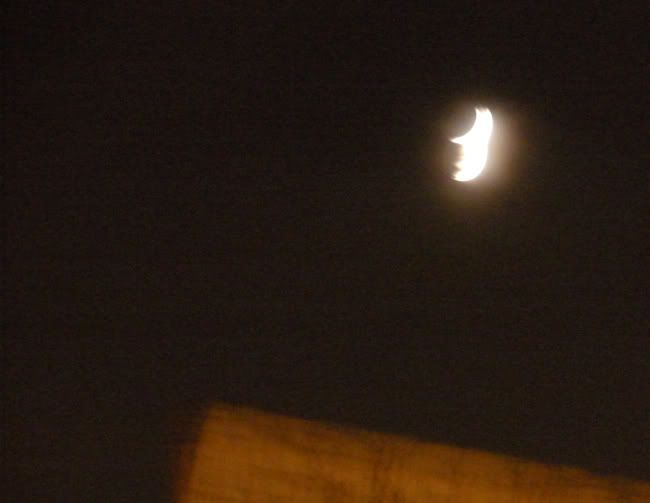 Isn't this great? A light mist around the crescent moon, and a not too steady hand on the shutter created a perfect man in the moon portrait. Very cool.
I don't know about you, but speaking only for myself, when I'm in the midst of a transformation, I get cranky. Grumpy. Grouchy. I turn into a few of the most ill-tempered of the 7 dwarves.
Part of that has to do with my love of routine, how safe it makes me feel when I know what's going to happen next, when the pattern of my days is laid out in a nice, neat, predictable sequence. The safety of familiarity is so nice! Fortunately or unfortunately my life's path has always spiraled around themes of potent transformation.
In my 20's, living still in Kansas City, waiting tables, if you had told me that in my 30's I would live in San Francisco and become a wiccan high priestess, I would have laughed in your face. If, in my 30's you had explained that in my late 40's I would move to Washington DC, give up the witchcraft, work as a massage therapist, and learn to love dogs, I would have thought you were nuts. For one thing, during my 30's, I could
never
have imagined leaving San Francisco.
Now I'm in my mid to late 50's, wondering what's around the next corner. It definitely does not feel like more of the same. I feel the transformation on a cellular level, like the breeze that comes out of the tunnel before you see or hear the subway train coming. What it feels like (always has felt this way, anyway) is a deep achey restlessness. Suddenly I feel restricted by my great and beautiful life even though I know in my heart of hearts that isn't true. Why do I suddenly like the early dusk of winter? Why am I at ease talking to a bunch of people (at NGS)? Why don't I want another dog? Why? WHY?? What does it all mean?
Maybe I'm wrong about this. Maybe I'm just in a jumpy mood, maybe I'll settle down and hang on to the stability I've created during the time I've been here on Tennessee Avenue. Maybe it's the upcoming holidays getting on my last nerve, as they have in the past, even though I was
supposed
to like the holidays this year. Who knows?
One thing I've learned over time is: my predictions are useless. Whatever will be, will be.
This pic, taken 2 seconds after that first shot, while still blurry is a completely different pic. Why? Don't ask me!!